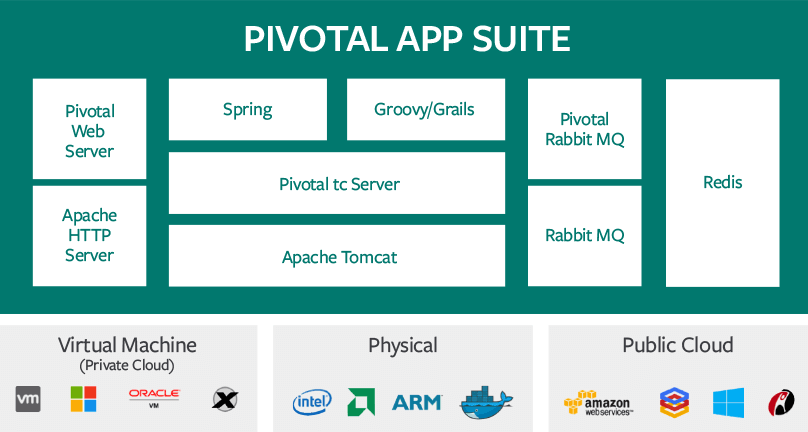 Pivotal Software has combined several of its commercial products and open-source technologies into the Pivotal App Suite, a lightweight Java Web stack alternative to Java Enterprise Edition (JEE).
The middleware platform combines open-source technologies, including its customized version of the Spring IO application framework, the Groovy and Ruby on Rails programming languages, and the Redis data cache along with Apache Tomcat and Apache HTTP Web servers. The open-source software is paired with Pivotal's own offerings, including Pivotal Web Server, Pivotal tc Server and the Pivotal RabbitMQ message broker.
(Related: Oracle announces Project Valhalla to spearhead new Java features)
Licensed to run in bare-metal computing environments, private virtualized cloud environments as well as public clouds, the Pivotal App Suite is designed to simplify the application development and middleware purchasing process with a flexible collection of both commercial and open-source products. Pivotal head of product management Dan Carwin said this will provide developers flexibility in choosing components.
"As your architecture needs and runtime environment change over time, the Pivotal App Suite adapts with you by virtue of its transferrable cross-platform licensing and support, including physical, virtual and cloud environments, and by giving you the freedom to change the runtime architecture at will," he wrote in a blog post.
Pivotal also designed the package so that customers can easily migrate their workloads developed in-house over to the Pivotal hosted cloud platform, though the lean Java runtime stack does not possess a full JEE application server, such as those included in Oracle WebLogic and Red Hat JBoss. Pivotal plans to partner with companies to offer that functionality in the Pivotal App Suite.
More info about the Pivotal App Suite is available here.