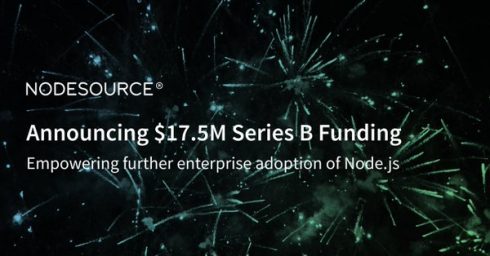 The Node.js company NodeSource is celebrating the holidays with a new round of funding announced today. In a series B funding, the company raised $17.5 million. The money will be used towards the company's engineering, support and global go-to-market teams.
This brings NodeSource's total amount raised to $33.4 million since 2014.
"Our Node.js solutions are powerful tools for enterprises that need to run mission-critical applications on JavaScript," commented NodeSource founder and CEO Joe McCann. "The market potential is significant, and this Series B investment from our partners at Crosslink Capital, Industry Ventures, Silicon Valley Bank and RRE Ventures further validates the strategy behind N|Solid and NodeSource Certified Modules (NCM), which is all about empowering organizations to successfully adopt, operationalize and scale Node.js to drive digital transformation initiatives."
NodeSource is known for its enterprise Node.js solutions. Node.js is a open-source, cross-platform JavaScript runtime environment. The company's flagship product N|Solid provides security, performance and extensibility for Node.js.
"NodeSource remains dedicated to delivering enterprise-grade solutions in support of a sustainable ecosystem for the open source Node.js project; and will continue to focus on enabling adoption of Node.js at scale through best-in-class solutions. I look forward to the growth and innovation this Series B funding will make possible in the coming years," McCann wrote in a post.
The round of investment was provided by Silicon Valley Bank, Industry Ventures and existing investors Crosslink Capital and RRE Ventures.