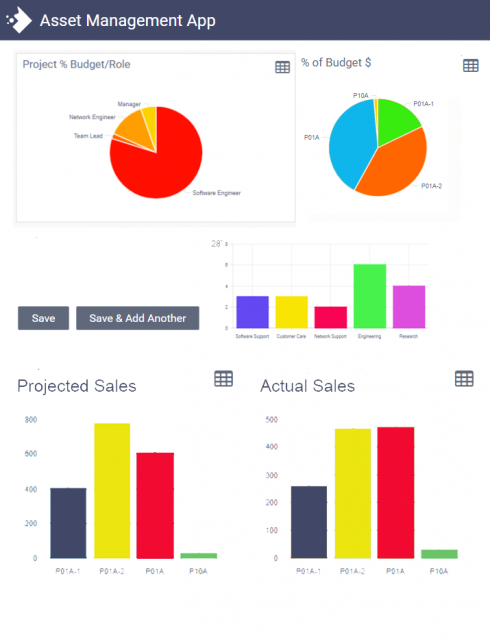 Metavine today announced the availability of Metavine GO, a no-code point and click application builder for business users. This solution bridges the gap between the growing ranks of citizen developers and the IT organizations tasked with ensuring corporate security and compliance. Facing rising demands for digital agility, citizen developers are increasingly using development tools to design their own custom applications, often without oversight from IT. With Metavine GO, citizen developers can create no-code applications quickly, and collaboratively with IT, to meet their critical business needs.
A recent report by Gartner finds that "more than 80% of top global enterprises have significant business unit development underway, much of it unseen and unsanctioned by IT, but less than 20% have a collaborative citizen development strategy in place." (Citizen Development is Fundamental to Digital Transformation, Oct 13, 2017, Driver, Wong, Baker). Metavine GO delivers an accelerated application lifecycle to drive a strategic approach to application development by combining the efforts and expertise of both corporate IT and business line developers.
"A collaborative relationship between IT and business leaders is critical to the overall health of a business," said Stephen Terlizzi, VP of Strategy and Markets for Metavine. "While some other tools allow citizen developers to create apps on their own, too often the results are opportunistic, with little thought to scalability or longevity and missing adherence to the corporate standards or compliance. Metavine GO is the only solution available today to bridge this gap, enabling companies to gain real opportunity and value from their citizen developers while driving an effective partnership between IT and citizen developers."
Metavine GO Enables Secure, Powerful, No-Code App Development
The Metavine GO step-by-step app builder allows citizen developers to easily build apps to solve the business problems they face daily. The cloud-based solution offers complete flexibility in how information is visually displayed, and can contain interactive charts and images, information panels and lists, data entry forms, videos, live stream feeds and a host of other user interfaces.
The resulting applications are visually compelling, feature-rich, and secure. Databases can be created from the ground up by importing spreadsheets or optionally connecting to existing legacy system databases. Metavine is fully HIPAA-compliant and has been penetration tested by numerous third parties ensuring the strictest security standards. Metavine GO includes built-in workflows, allowing developers to share forms, attach documents and manage approvals with team members, while also providing a console for viewing and status management of workflow processes. A free beta version of Metavine GO is available for users starting today.
Metavine GO Extends the Metavine Platform
Additionally, by leveraging the Metavine platform with Metavine GO, IT organizations can create a self-serve marketplace of functionality – allowing and supporting users to create IT-compliant applications on demand. Using this platform, IT can create a valuable suite of custom micro-services called Gadgets.
Business line users then apply their domain knowledge to build their own apps using these Gadgets, which can be monitored by IT against performance, security and compliance requirements. By enabling business users to develop the exclusive tools they need for their specific role, organizations are supporting better data-driven decision making, leading to higher productivity and increased digital agility.
Metavine GO, and the Metavine Platform, allow corporate IT organizations to transform legacy applications into nimble and compliant services, giving users the ability to address their immediate application needs quickly, while removing project backlog from IT.
Pricing and Availability
Standalone Metavine GO is free and is currently in a public beta phase, available for registration here. Metavine GO can be used as a standalone solution, or with the Metavine platform for more powerful data integration and microservices.  Companies can use Metavine GO on their own, or contact Metavine for assistance with initial implementations. Users can also watch video tutorials for Metavine GO and Metavine GO for IT.