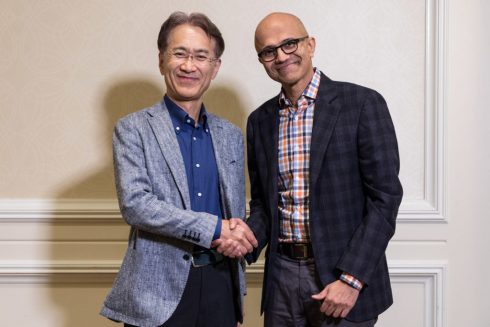 Sony and Microsoft are teaming up to collaborate on developing semiconductors and AI as well as new cloud-based solutions for gaming and content-streaming on Azure.
According to the companies, Sony will integrate its image sensors into Microsoft's Azure AI technology across cloud and edge, and will also blend Sony's conductors into Microsoft cloud technology. The companies will also explore the integration of Microsoft's AI platform and tools into Sony consumer products.
"I hope that in the areas of semiconductors and AI, leveraging each company's cutting-edge technology in a mutually complementary way will lead to the creation of new value for society," said Kenichiro Yoshida, the president and CEO of Sony.
Visual Studio Code 1.34 release adds remote development extensions
Version 1.34 of Visual Studio Code has been released with remote development extensions that allow developers to work with VS Code over SSH on a remote machine or VM, in Windows Subsystem for Linux (WSL), or inside a Docker container.
VS Code is now more stable because it optimistically caches Codelens locations whereas before, Codelens lines would shift slightly when switching between editors, the team explained. The extensions also offer new tasks such as automatically revealing the problems panel and terminating all tasks.
The full list of new features and bug fixes can be viewed here.
Stack Overflow breached
Stack Overflow, the Q&A site for programming and development-related topics, stated that hackers breached the company's network over the weekend.
The company confirmed that some level of production access was gained on May 11 and they have not yet found if customer and user security has been compromised. The investigation is ongoing, according to the company.
PDFTron secures $71 million investment
PDFTron, provider of document processing tools for developers, secured a $71 million investment led by Silversmith Capital Partners.
The company's main product, PDFTron SDK, enables users to embed PDF and document functionality within their software applications and integrates across all major web, desktop and mobile platforms.
"This investment will allow PDFTron to continue delivering market-leading solutions, while doubling down on our commitment to long-term customer success and satisfaction," Catherine Andersz, the co-founder and CEO of PDFTron.