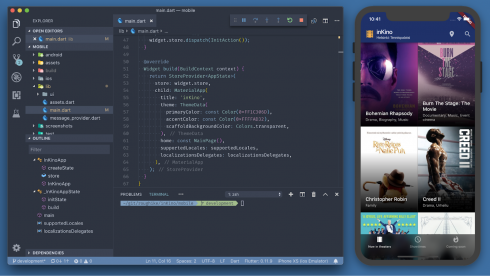 Google announced the launch of Flutter 1.0 today during its Flutter Live event in London. This is the first stable release of Google's cross-platform mobile development toolkit. It features improved pixel-perfect application support and new widgets for iOS, smaller application sizes, improved app performance and previews of the Add to App and and platform views features.
The free and open-source platform's major focus is on UI and creating "beautiful" applications, Tim Sneath, group product manager for Flutter, wrote in a blog post. This can come at the cost of performance, but Sneath says that Flutter's use of native codebases for ARM on both iOS and Android and hardware acceleration strikes a good balance.
"We want to enable designers to deliver their full creative vision without being forced to water it down due to limitations of the underlying framework," Sneath wrote. "Flutter lets you control every pixel on the screen, and its powerful compositing capabilities let you overlay and animate graphics, video, text and controls without limitation."
Though Sneath explained the focus of the 1.0 release was bug fixes, the company included previews of upcoming major features, expected to launch with the next quarterly release of Flutter. The first is Add to App, a feature designed to make adding new Flutter-based functionality to existing apps or migrating apps to Flutter easier.
"The architecture of Flutter supports this model well: after all, every Flutter app includes a host Android and iOS container," Sneath wrote. "But we've been working to make it easier to incrementally adopt Flutter by updating our templates, tooling and guidance for existing apps. We've made it easier to share assets between Flutter and host code. And we've also reworked the tooling to make it easy to attach to an existing Flutter process without launching the debugger with the application."
The second is platform views, which serves a somewhat opposite role by bringing system functions from iOS or Android into the Flutter application in their own frame or view.
According to Snead, the Flutter team is working to expand the number of platforms that can be targeted, with experimental support for desktop environments running Windows, macOS or Linux, Raspberry Pi and browsers through the Hummingbird implementation of Flutter.
Additionally, a number of companies announced SDKs for embedding their services and features in apps developed with Flutter during Flutter Live, including Square, for payments; 2Dimensions, who introduced Flare for vector animations; and CI/CD company Nevercode, who introduced Codemagic for more easily packaging and distributing Flutter apps on both Android and iOS.