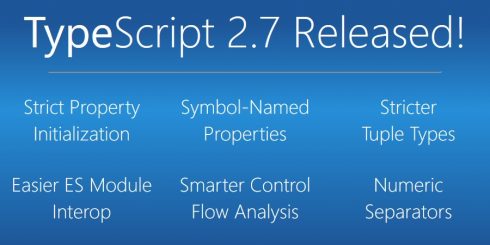 Microsoft has announced the release of TypeScript 2.7. The new version includes stricter property checks, definite assignment assertions and easier ECMAScript module interoperability. Visual Studio Code support is expected to come soon.
"We always try to bring more joy to the TypeScript experience," said Daniel Rosenwasser, program manager for TypeScript, in a blog post. "We hope this release continues the tradition of making you more productive and expressive to bring that joy to the core experience."
InterSystems announces new data platform 
InterSystems has announced the release of the InterSystem IRIS Data Platform. The platform is designed to deliver multi-workload and multi-model data management, native interoperability, and an open analytics platform in one product.
"InterSystems shares a commitment to innovation with our customers and partners, and we've developed InterSystems IRIS Data Platform to accelerate the development of new, more robust and data-rich applications," said Paul Grabscheid, InterSystems vice president of Strategy. "InterSystems IRIS is empowering innovative organizations to become truly data driven, taking data out of stagnant silos and turning it into actionable insights that drive better business decisions and customer experiences."
WayRay announces AR SDK challenge and hackathon
WayRay has launched the True SDK Challenge for developers. From across the globe, participants will join the competition in order to create AR applications for cars. The winners will receive a $10,000-40,000 grant and the brand new Navion devices.
"The competition is the next step for WayRay towards creating a strong community of software engineers, content providers and hardware manufacturers creating AR solutions for cars," the company said in a statement.
Hortonworks updates data management solution
Hortonworks, Inc has announced the release of Hortonworks DataFlow (HDF) 3.1. This new release is designed to enhance operations and developer productivity, and deliver stronger integration and interoperability between HDF and Hortonworks Data Platform. The platform will combine governance, security, and management for real-time decisions.
"As more and more organizations embrace the value of capturing data in motion, they are also devising more ambitious objectives and sophisticated approaches to maximizing the utility of that data and leveraging the insights provided," said Scott Gnau, chief technology officer at Hortonworks. "This newest release improves ease-of-use and time to value by enabling developer productivity while also expanding enterprise interoperability."