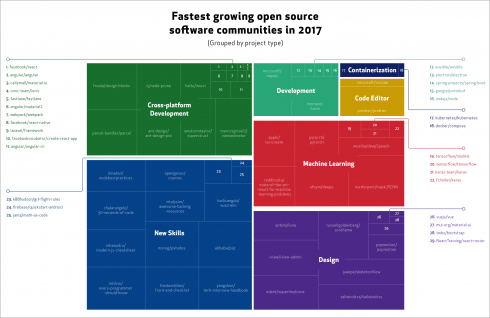 GitHub is identifying key open-source project trends to be on the lookout this year based on its contributor, visitor and star activity data. The company took the top 100 projects with the largest increase in contributors, identified the top 100 projects with the most visitors, and took into account the top 100 projects with the most new stars last year to see what the open-source community will be working on in 2018.
Based on the data, cross-platform/web development will continue to dominate the open-source world.  GitHub reports this area had the largest growth in activity last year. For example, Angular/angular-cli, a tool that formats, develops, and maintains Angular applications had more than 2.2 times more visitors last year compared to 2016, and TensorFlow/models had 5.5 times more.
The company also found an increase interest in deep learning. "Across multiple industries, artificial intelligence is solving a host of complex and interesting problems. You've helped drive that interest by upping your contributions to and visits to projects like Keras-team/Keras and Mozilla/DeepSpeech. TensorFlow/TensorFlow had 2.2 times more visits in 2017 than in 2016," the company wrote in a post.
The final key trend expected this year will be new skills. "Your commitment to developing coding skills is unparalleled. You starred projects, many created in 2017, related to learning to code, getting coding jobs, and coding best practices," the company wrote. Top projects last year included Front End Checklist, Tech Interview Handbook, Coding Interview University, Node Best Practices, and 30 seconds of code.
Follow along with this trends in our weekly publications of SD Times GitHub Project of the Week.