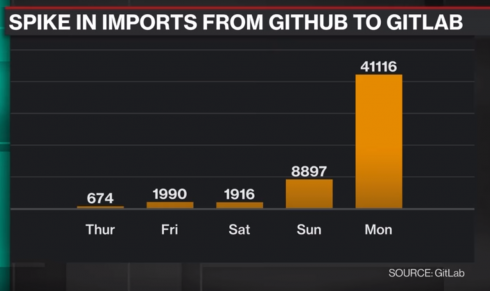 Following a major boost in activity this past weekend spurred on by Microsoft's acquisition of GitHub and Apple's announcement of XCode integration for GitLab, GitLab has announced that its two most robust project management offerings, GitLab Ultimate and GitLab Gold, are now free for educational institutions and open source projects.
Though GitLab was asked about educational and student discounts during a live-stream event Sunday evening, the company held its announcement back until today.
While GitLab Ultimate is self-hosted and GitLab Gold is the company's primary SaaS offering for hosting on GitLab.com, both include all of the features of the GitLab Core, Starter and Premium services, plus more advanced management and security features alongside access to all features of GitLab including Epics, Roadmap, Static Application Security Testing, Container Scanning and others. Missing from the free features is support, but it can be purchased at a steep discount for a monthly fee, the company explained.
"We make GitLab free for education because we want students to use our most advanced features," the company wrote in its announcement. "Many universities already run GitLab. If the students use the advanced features of GitLab Ultimate and Gold they will take their experiences with these advanced features to their workplaces. We would love to have more open source projects use GitLab. Public projects on GitLab.com already have all the features of GitLab Ultimate. And projects like Gnome and Debian already run their own server with the open source version of GitLab. With today's announcement open source projects that are comfortable running on proprietary software can use all the features GitLab has to offer while allowing us to have a sustainable business model by charging non open source organizations."