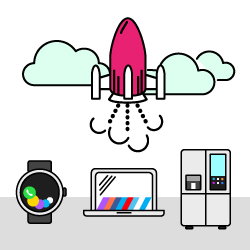 LG Electronics is moving webOS beyond TVs with the release of webOS Open Source Edition. WebOS is a multitasking operating system that was designed for smart devices and smart TVs.
Before coming to LG, webOS was launched as Palm OS in 2009. It was acquired by HP in 2010, and then licensed to LG in 2013. Since then, the company has been using the technology for its smart TVs and refrigerators.
"WebOS has come a long way since then and is now a mature and stable platform ready to move beyond TVs to join the very exclusive group of operating systems that have been successfully commercialization at such a mass level. As we move from an app-based environment to a web-based one, we believe the true potential of webOS has yet to be seen," said I.P. Park, chief technology officer at LG Electronics.
With the webOS Open Source Edition, developers can download the source code and take advantage of related tools, guides and forums. According to the company, new developers will be able to easily pick up on webOS because it is a Linux-based multitasking OS with support for both HTML5 and CSS3.
"Web developers can easily build apps and services for webOS OSE. With the initial release, you can port webOS OSE to Raspberry Pi 3 for use in your own projects. It will be extended in the coming future to be used for other kinds of devices with various form factors," the company wrote.
Other features include ability to develop and test apps without a specific IDE with the CLI, the LSP2 API for sending and receiving data in a single device, and a developer SDK.