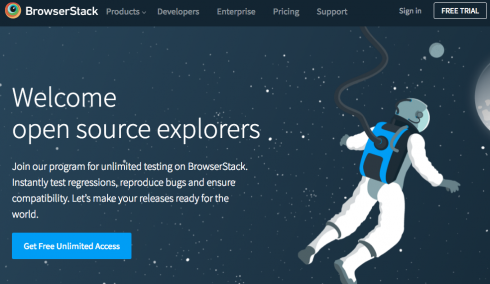 Web and mobile app testing platform provider BrowserStack has announced a new open-source program to provide free open-source software testing on the BrowserStack Real Device Cloud. According to the company, the goal is to provide open-source developers with tools and infrastructure for speed, accuracy and scale.

"BrowserStack is committed to strengthening our ties with the open source community and is dedicated to giving back to the developers that rely on open source projects," said Ritesh Arora, co-founder and CEO of BrowserStack. "The open source community remains an important wellspring of some of the most innovative ideas impacting software development. We believe that, through access to powerful tools like BrowserStack, more open source projects to come to fruition and succeed."
Features include access to all products, real device testing, and lifetime access.
Tableau Software acquires Empirical Systems
Tableau Software is acquiring the artificial intelligence startup Empirical Systems. Empirical is a startup from the Massachusetts Institute of Technology (MIT) Probabilistic Computing Project. Tableau hopes this acquisition will help provide automated statistical analysis capabilities for gaining more insight into data without having to manually build complex data models.
"We are thrilled to welcome the Empirical team to Tableau to help us bring AI-powered analysis to the masses and enhance the way people interact with their data," said Francois Ajenstat, chief product officer at Tableau. "Automatic insight generation will enable people without specialized data science skills to easily spot trends in their data, identify areas for further exploration, test different assumptions, and simulate hypothetical situations. Empirical shares our vision of delivering deeper insights to more people through smart analytics, and we're eager to bring their tremendously talented team to Tableau."
Android Enterprise Recommended
Google's program to help enterprises select, deploy and manage devices is getting more support for devices and new partners. "The program empowers organizations to choose the right devices for their organization, knowing they will receive regular security updates and at least one major operating system update, work with zero-touch enrollment, and be available unlocked," David Still, managing director of Android Enterprise, wrote in a post.
The program has been expanded to the Huawei M5 8.4 and 10.8, two new OEM's with Sharp and Sonim, and new devices from Sony, Motorola, Huawei, BlackBerry and Nokia.
TigerGraph offers graph database for free
TigerGraph has announced the free developer edition of its graph analytics platform. The platform features enterprise graph massively parallel processing, support for Big Data, ability to write high-performance complex analytics queries, and the ability to continuous load over 100 GB per machine per hour.
"We developed TigerGraph based on years of research and conversations with our customers to address their most pressing needs – a scalable, high performance platform for big data graphs," said Yu Xu, founder and CEO of TigerGraph. "The result is the most powerful graph solution for supporting digital transformations initiatives – from enterprise knowledge graphs, customer 360 graphs to Machine Learning, AI and more."