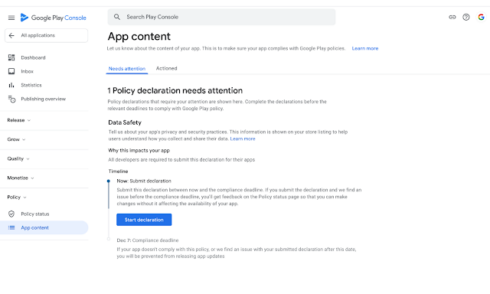 Over the past few months, Google has provided updates on its significant privacy and security efforts, aiming to assist users in adapting to forthcoming changes and utilizing new tools and resources, such as improved account data transparency and controls available in the app's Data Safety section and the introduction of new functionality for Android 14. 
Google is now announcing the forthcoming phase of features, tools, and updates that have been developed to maintain the platform's safety and reliability.
In the App content page in Google Play Console, Google plans to "show not just existing declarations, but also upcoming declaration requirements and deadlines to give users more time to plan," Jacqueline Hart, director of trusted experiences for Developer Enablement at Google, wrote in a blog post. 
A new notification feature on the Google Play SDK Index is being provided to assist users in making informed decisions regarding SDK versions and potential policy violations on Google Play. 
Additionally, in an upcoming update, users will have access to this crucial information directly within Play Console. Unlike the previous method of receiving notifications through Inbox messages or email, users will now find this information on the Policy status page, enabling them to conveniently track any policy-related issues in one centralized location and stay informed about their app's policy compliance status.
Google has also simplified the process of determining if an app complies with Target API requirements on the latest Android versions, which is necessary for accessing security updates and platform enhancements. Since early August, users have been provided with information regarding their app's potential compliance issues on the Policy status page, along with resources for guidance.
To offer additional support, two new initiatives are being introduced. First, the Developer Help Community will provide a platform for developers to seek advice and discuss topics related to Play Console and policy changes with their peers. 
Second, the Google Play Strike Removal program, which was initially launched as a pilot program, will now be available to all developers. This program enables eligible developers to have certain enforcement strikes removed upon completing a related Play Academy training course, and it has been successful in reducing repeat violations.
Additional details are available here.