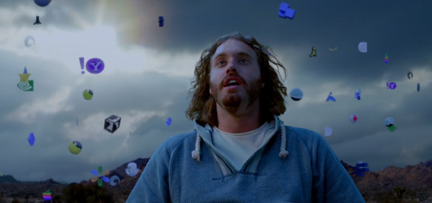 The third episode of "Silicon Valley" kicks off with Gavin Belson (Matt Ross) proselytizing about the wonders of technology, likening Hooli nanotechnology to the Taj Mahal, the Coliseum and the Great Pyramids in about as schlocky a commercial as they come.
"If we can make your audio and video files smaller, we can make cancer smaller. And hunger. And AIDS," Belson says, doing his best smarmy, self-righteous Steve Jobs impression.
As Hooli goes on a media blitz over its new "Nucleus" platform (the reverse-engineered compression algorithm they stole from Richard (Thomas Middleditch,) the Pied Piper team is still trying to figure out a name.
Pied Piper is a lame name for the next great startup, a fact everyone seems to realize but Richard, who already had Peter Pan-like t-shirts made up. But before cashing the US$200,000 check made out to Pied Piper, Richard first has to convince a sprinkler company with the same name to sell the rights.
(Related: 'Silicon Valley' Episode 2: A reality check)
While the first two episodes of "Silicon Valley" were not exactly serious, "Articles of Incorporation" was straight-up silly (in a good way.) On a larger scale it was about the instant media hype surrounding a little startup that could, but this episode was mostly about locking down the company's name using a bit of negotiating and a lot of psilocybin mushrooms.
Richard, fresh off a short-lived confidence high from convincing the owner of Pied Piper to sell him the name for $1,000, breaks down when the owner comes back demanding more money after Pied Piper's VC funding shows up on tech blogs. While the rest of the team sits around drumming up cringe-worthy company names, Richard finds some negotiating skills after all and closes the deal. Pied Piper it is, for better or worse.
Erlich, meanwhile, has set off on a mushroom-fueled quest to think of the perfect name for the startup, because "It's what Steve Jobs would do." While sitting in what he thinks is the middle of the desert babbling inanely to himself, as floating company icons whizz past his wide, drug-addled eyes, he comes up with absolutely nothing and passes out.
There is something to the whole name debate, in choosing that perfect conceptual phrase to market your product. But Google or Oracle or Microsoft, Pied Piper is not. It seems creator Mike Judge prefers to make the "Silicon Valley" gang's uphill battle even steeper, which for comedy's sake is the right way to go.
Elsewhere in this episode, we find out that while Dinesh (Kumail Nanjiani) is a U.S. citizen, Gilfoyle (Martin Starr) is an illegal immigrant from Canada. By episode's end he has a visa. Hopefully this isn't a sign of a frivolous weekly subplot for the Dinesh/Gilfoyle duo, who are among the funniest and most interesting characters on the show.
In a far more thought-provoking subplot, venture capitalist Peter Gregory (the late Christopher Evan Welch) goes on a seemingly insane rant about Burger King while two panicking investors plead for $15 million for their bankrupt factory. As it turns out, Gregory was having a stock market epiphany.
Hidden within his sudden obsession with Burger King was the insight that the sesame seeds on fast food buns are harvested in only a handful of countries, two of which will be crippled by Cicada bug cycles next year. Naturally, Gregory bought stock in sesame seed farms in a third country, netting himself a projected $62 million. While this has next to nothing to do with the main storyline or the tech industry whatsoever, Welch's offbeat brilliance as he gives a riveting look into how Judge imagines the Warren Buffetts of the world think.
For Richard, this episode was still about his slow, painful transformation into thinking and acting like a CEO. In a rare moment of bona fide wisdom—before he starts tripping on 'shrooms in what turns out to be a gas station bathroom—Erlich gives Richard a pep talk as he's wallowing in bed, whining over being in over his head with no clue what he's doing.
"Neither did Zuckerberg at 19," Erlich says. "You think he had any real-world business experience? No, none. But he was such a tough negotiator that now all of his friends are suing him."
Odds & Ends
-Nerdy t-shirt of the week: Gilfoyle sporting an HTML5 shirt.
-The camera did not make the Burger King sandwiches laid out on Peter Gregory's desk look any more appetizing. I wonder how much they paid for that product placement.
-My favorite possible company names on Jared's whiteboard: SmushIt, Wane Maker, The Dwarf-Ray, The Wee Machine, and Tiny Dancer.
-TechCrunch, Re/code and PandoDaily were namedropped in this episode. C'mon Mike, no love for SD Times?