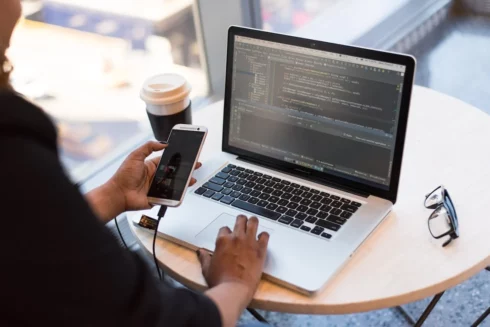 What if I told you that this year was going to change the way developers build for unified communications, forever cementing a place in traditional industries like manufacturing and medicine? 
We all know the critical role software developers have played as the driving force beyond today's connected collaboration capabilities. But I think that role will only expand and become even more foundational, including in areas that were just pipe dreams a couple of years ago. 
And no, I'm not talking about video conferencing. I'm talking about changing the way we connect – about code that can remotely control physical instruments thousands of miles away, new ways to shop or transact real estate, and tools for remote work collaboration that build real bonds between colleagues. 
As head of Developer Relations, empowering developers to create and build is close to my heart. At my day job, I advocate for the developer community to our product and engineering teams, making sure our product roadmap remains relentlessly end-user driven. This requires me to keep a close pulse on the developer community. 
I've been mulling over the question of what new capabilities people will be developing this year. Here are a few thoughts on what we might see software developers building.
Unify communications
Technology is becoming more core to the way people work across every industry, from online banking to telehealth. This year, companies across all industries will work to unify their communications, and software developers will rise to the challenge of creating hyper-specific tools for different industries. 
This will require developers to hone in on understanding and dissecting the problems of their industry partners to propel unified communications efforts. Root cause analysis of industry problems will prove fertile ground for creative, out-of-the-box solutions. We're seeing harbingers of this wave of development in the video-enabled headsets beginning to connect manufacturing supervisors with workers on the ground, or the drones ferrying vaccines to remote portions of Ghana to increase accessibility to preventative healthcare. Developers, coming in with a systematic approach and logical lens, will be well-suited to create impactful solutions for traditionally analog fields. 
Reduce latency and eliminate downtime 
With that growth in specialized unified communications will come urgency in reducing friction in connected devices. As more workstreams begin to rely on UCaaS technology, the effects of latency and downtime multiply. As everyone has personally experienced, low latency serves as a barrier to retention, incentivizing customers to turn away from a site or give up on trying to make a new gadget work. With companies zeroing in on customer retention as a primary focus given the macroeconomic climate, improvements in latency can make a difference in the bottom line. 
Minimizing roundtrip latency also opens up a world of real-time remote applications, like remote surgery, remote vehicle control, and jitter-free virtual reality. Any application requiring real-time, precise controls depends on low latency, so developers working on such products will be well suited to structure their networks and systems for lower latency. 
With some level of latency unavoidable, as well as users on low bandwidth connections, another management strategy involves researching the key pieces of the user experience and prioritizing those in the user interface. Making use of artificial intelligence and machine learning to adjust the quality of less-important areas of your experience means that users can continue using the tool on suboptimal connections, rather than simply losing access. 
Similarly, downtime can lead to disruption for users. Effective deployment strategies, clear mitigation strategies, and increased test coverage are all proven ways to reduce downtime, improving that all-important end user experience. 
Executives push return to work, employees vote with their feet 
It is crystal clear that hybrid work and distributed workforce strategies are here to stay. If the past two years have taught us anything, it is that establishing clear and continuous communications pathways are critical to success in hybrid work environments. 
This looks like software that works on any device, including mobile, and from any location. With hybrid work trending across companies, and variations in preferred unified communications as a service (UCaaS) providers, interoperability as a competitive edge will be sharper than ever. Companies want to avoid vendor lock-in when they purchase hardware, while tools that allow employees to work with external contacts as well as internal ones reduce friction and increase productivity. 
Developers will have an opportunity to reassure executives fretting about a lack of in-person collaboration, while preserving flexibility for employees to work in the location they find most productive. This will look like enhanced virtual workplaces, next-generation conference room displays, and granular presence controls. 
It all comes down to developers 
Without the tireless work of software developers, the products and solutions we love and use on a daily basis would not have come to fruition. As we embark on a new year, it will be critical for companies to enable software developers to work through today's industry-specific issues, strengthen the connected devices proliferating in offices and home workspaces, and build for a flexible workforce. This enablement will provide much greater value than any single platform or solution alone.