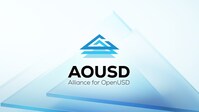 Pixar, Adobe, Apple, Autodesk, and NVIDIA have teamed up with the Linux Foundation's Joint Development Foundation to form the Alliance for OpenUSD (AOUSD). 
This new alliance will focus on promoting the standardization, development, evolution, and growth of Universal Scene Description (USD) technology, which is something Pixar developed to allow for the interchange of 3D data.
"Universal Scene Description was invented at Pixar and is the technological foundation of our state-of-the-art animation pipeline," said Steve May, chief technology officer at Pixar and chairperson of AOUSD. "OpenUSD is based on years of research and application in Pixar filmmaking. We open-sourced the project in 2016, and the influence of OpenUSD now expands beyond film, visual effects, and animation and into other industries that increasingly rely on 3D data for media interchange. With the announcement of AOUSD, we signal the exciting next step: the continued evolution of OpenUSD as a technology and its position as an international standard."
According to the alliance, promoting the interoperability of 3D tools and data will allow developers to create large-scale 3D projects. This will facilitate a wider range of 3D-enabled products and services being made available. 
The alliance will work to create a written specification for the technology to enable greater compatibility. They also hope that other standards bodies will include it in their specifications.
AOUSD chose the Linux Foundation to house the project because of its ability to enable "open, efficient, and effective development of OpenUSD specifications." They also believe the Linux Foundation will provide a path for getting OpenUSD recognized by the International Organization for Standardization (ISO). 
"At Adobe, we believe in providing artists a set of flexible and powerful solutions running on a variety of devices," said Guido Quaroni, senior director of engineering for 3D&I at Adobe. "Leveraging a common 3D data representation during the creative process multiplies the value brought by each package and device. OpenUSD was created to be one of these 'multipliers' and we are excited to see a diverse group of companies joining together to support this innovative and open technology."