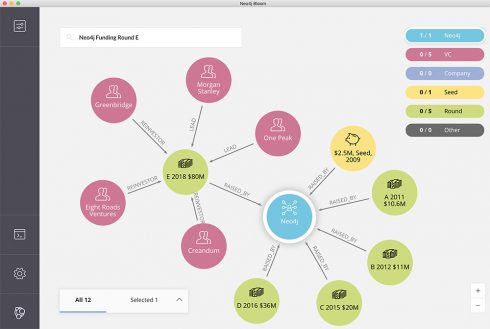 Graph database solution provider Neo4j has closed an Series E round of funding at $80 million. This brings the company's total growth funding to $160 million since 2007.
The funding will be used to help the company power business applications with graph databases as well as increase the product to support popular use cases such as graph-enabled AI and machine learning systems, the company explained.
The round of funding was led by One Peak Partners and Morgan Stanley Expansion Capital with participants from Creandum, Eight Roads and Greenbridge Partners.
"We see great potential for using graph data as a means for powering and enriching AI and other learning applications by providing context," said David Klein, co-founder and managing partner of One Peak Partners.
Windows Community Toolkit v5.0
Microsoft is launching a major update to the Windows Community Toolkit with new controls and APIs. Version 5.0 of the toolkit introduces the WindowsXamlHost control designed to simplify adding built-in and custom UWP control.
The latest version also includes new WinForms and WPF controls such as InkCanvas and MapControl. Lastly, it features a new TabView control for UWP, .NET Standard Weibo service, .NET framework support and bug fixes as well as feature updates.
Amazon launches computer science career program
Amazon has announced the Amazon Future Engineer program to inspire children to get more involved in computer science. It is a childhood-to-career program that will educate and train children and young adults from underserved and low-income communities for a career in computer science. The company aims to educate more than 10 million kids a year through coding camps and online lessons.
"Among Black and Hispanic students, those who take AP computer science in high school are up to 8 times more likely to take computer science in college, and among women, they are 10 times more likely to do so—yet most high schools don't offer these courses," said Jeff Wilke, CEO Worldwide Consumer, Amazon. "Computer science skills are some of the most in-demand in the modern economy, and we have created Amazon Future Engineer because we believe young people from all backgrounds should have help from childhood to career so they can have a future in this highly paid, rapidly-growing field."
Google's latest security features
As part of yesterday's last day of Cybersecurity Awareness Month, Google launched new features to better protect the privacy of its users. The company hopes these new protections and tools will provide better security of user accounts.
Google runs a risk assessment when a user signs in to ensure nothing is suspicious. If the company detects anything, it will not allow sign-in. In order to improve this analysis, the company is now requiring users enable JavaScript on the sign-in page.
Google also announced better protection against harm apps based off of Google Play Protect recommendations. Other updates include more notifications when account data is shared, and a new step-by-step process for your Google account that will help verify critical security settings, secure other accounts, check financial activity and review content and files.