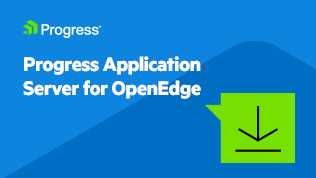 Progress has announced new features for the Progress Application Server (PAS) for OpenEdge.  PAS for OpenEdge is designed to help developers create mission critical applications while reducing security vulnerability and simplifying installation, configuration, and management, according to the company.
The solution is built on the Apache Tomcat web server framework, and is installed and configured as a web server that supports HTML-based frontends. It includes that Spring Security Framework and was designed using the latest security standards.
The PAS for OpenEdge server unifies all Progress OpenEdge solutions into a single applications, providing developers with a familiar programming model, increased communications, and simple and consistent installations.
It is also designed to utilize fewer system resources than the OpenEdge AppServer, which results in enhanced scalability and performance of business applications.
Panaya Release Dynamix 2.0 is now available
Panaya Release Dynamix 2.0 (RDx) has been released. The cloud-based platform allows customers to quickly and safely deliver application changes from ideas to reality. The solution removes the guesswork and risk associated with business-critical application changes, the company explained.
Key improvements in the new version include greater transparency, increased developer efficiency and code stability, streamlined testing, and easier management of development space.
2nd Watch announces two new services for cloud automation
2nd Watch has announced the availability of 2nd Watch Modern CI/CD Pipeline and the 2nd Watch Machine Image Factory. These two new services automate some of the core functions of the DevOps pipeline and cloud infrastructure management.
2nd Watch Modern CI/CD Pipeline helps accelerate code development by providing a standard pipeline framework that can be reused for each project.
2nd Watch Machine Image Factory reduces deployment time for deploying machine images by 75 to 95 percent, the company claims. It uses a proven framework to automate the image creation process, which streamlines the process of creating new resources in the cloud.
Applause launches a testing solution for Amazon Alexa Skills
Applause has launched a new testing solution for Amazon Alexa. Applause for Amazon Alexa is powered by over 300,000 vetted testers, enabling developers and teams to increase quality of Alexa Skills and Alexa Voice Service (AVS) devices.
It is able to provide testing benefits that other testing approaches cannot, such as "in the wild" testing, real voices, unlimited device coverage, testing diversity, a SaaS platform, and proven results with IoT, according to the company.