Rainforest QA announced new features designed to enhance testing visibility and give development teams the ability to monitor the overall health of their test suite.
"Development teams today are moving quickly in the era of continuous delivery, and a common pain point we find among them is the lack of a quick and convenient method for gaining a comprehensive view of their test suite," said Derek Choy, CIO at Rainforest. "With Reporting and Results Categorization built right into the testing workflow, customers no longer need to feel in the dark about their QA processes and can continue focusing on scaling the business."
The new features include a new reporting capability that enables teams to access and download reports, charts and graphs to depict the overall state of their test suite. According to the company, this will help teams make informed decision on what, how much and how often to test. The company also launched the Results Categorization feature to enable users to categorize individual test outcomes.
Syncfusion announces the availability of Essential Studio 2018 Volume 2
Syncfusion is releasing the second major release of Essential Studio for the year. Volume 2 includes more than 50 components for Vue.js projects, a web-based theme studio and final versions of ASP.NET Core and ASP.NET MVC controls with pure JavaScript.
"With Volume 2, the range and depth of features that our Developer Platform provides has never been greater, and the time and cost savings our users experience will continue to grow," said Daniel Jebaraj, vice president of Syncfusion. "In this latest release cycle, we've made significant progress in our tools for web development, from more components built on pure JavaScript, to a new tool for easily creating and applying themes across your web apps. Our components for Xamarin continue to lead the pack with more controls, more features, and even macOS support for select controls."
Kano's Harry Potter coding kit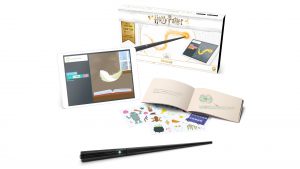 Kano is bringing magic to coding with the Harry Potter Kano Coding Kit. The kit leverages a wireless wand that aims to teach users how to code by creating their own spells with more than 70 Wizarding World-inspired challenges. The kit supports most iOS and Android tablets as well as Windows and macOS machines.
"First, you follow a step-by-step manual and build a wand. Then you learn about sensors, data, and code along the way. The wand combines a gyroscope, accelerometer, and magnetometer to detect its own location and speed in tridimensional space, making it capable of tracking your hand movement," the company wrote in a post.
Split announces product development conference
Split announced its first conference for insights-driven product development, DECISIONS 2018, will take place on on October 2, 2018 in San Francisco. The company hopes to bring together engineers, product managers, data scientists and thought leaders together in a single forum to talk about how they are making insight-driven decisions.
"The speed of innovation in the software industry is exhilarating, but can be quite daunting for product development teams," said Adil Aijaz, chief executive officer at Split. "It impacts how products are developed and has given rise to an entirely new set of tools and processes – not to mention the cultural transformation of the teams who adopt them. This transformation has created a struggle for teams wanting to make the right decisions at every step in the workflow, while delivering risk-free, valuable software. We feel a deep responsibility to provide a platform that can facilitate an exchange of ideas amongst everyone impacted – Engineers, Product Managers, and Data Scientists – so that as a community we work smarter, deliver better software, and continue to move faster."