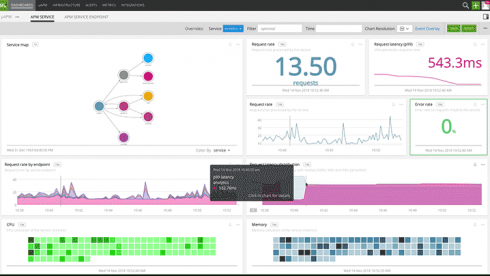 Cloud monitoring company SignalFx has revealed SignalFx Microservices APM, which is a new application performance monitoring solution designed for DevOps teams. The solution is built on top of the company's streaming analytics platform, giving it access to power data analytics.
"The world happens in real-time and if something goes wrong, finding problems minutes later just doesn't cut it," said Karthik Rau, CEO and founder of SignalFx. "Customers expect technology and applications to just work. Their tolerance for failure is next to zero with the value of their brand held in the balance."
Dart 2.1 now available
A new stable release of the programming language Dart is now available. Dart 2.1 provides smaller code size, faster type checks, better usability for type errors, and new language features for improving productivity, according to the team.
The team also announced plans to ship several releases in the 2.x line that utilize the Dart 2 platform foundation.
Bugcrowd launches Next Gen Pen Test
Crowdsourced security company Bugcrowd has announced a new pen testing solution. Bugcrowd Next Gen Pen Test offers unique capabilities to allow it to meet the growing security needs of organizations.
According to the company, the solution is a scalable model that replaces traditional testing approaches.
"As I speak to CSOs around the world, they're looking for better ways to protect their organizations than the traditional pen testing approaches that have not changed in more than 20 years – and have in fact failed to reduce overall security risk," said Ashish Gupta, CEO of Bugcrowd. "The solution can only be addressed by a radical shift in pen test design, which lends itself exceptionally well to the crowdsourced security model."
Educative raises $2.3 million in seed funding
Software development learning platform Educative has raised $2.3 million in seed funding. The investment was made by Trilogy Equity Partners, SK Ventures, and others.
"As software engineers ourselves we understand how critical it is for developers to stay current with the latest software languages and frameworks so we created a learning environment that was designed specifically to meet their unique requirements of learning software languages," said Fahim ul Haq, co-founder of Educative. "All of the courses featured on the Educative site are designed to be fully interactive, embracing the notion that software developers learn best by doing and continuous feedback. Our platform also makes it easy for authors to create and publish their courses, providing them with an opportunity to share their expertise and generate revenue."