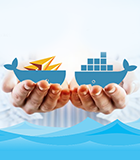 LogiGear has announced the release of TestArchitect on the Docker Image. It will offer seamless integration with Docker, enable unlimited tests, and bring down execution costs.
"Developers use Docker to eliminate 'works only on my machine' problems when collaborating on code with co-workers. Operators use Docker to run and manage apps side-by-side in isolated containers to get better computing density. Enterprises use Docker to build agile software delivery pipelines to ship new features faster, more securely and with confidence for both Linux and Windows Server apps. With TestArchitect hosted on Docker Image, users no longer need to deploy the test tool to worker/execution machines, a great advantage in environments with a significant amount of virtual machines or cloud instances," LogiGear wrote in a post.
TestArchitect manages test automation as well as handling tests run on other controller machines. Tests can be launched straight from the command line, which adds flexibility to testing.
TestArchitect is supported on Ubuntu 16.04 and it supports automation on the headless mode of Chrome on version 65. It also features automation libraries such as API testing and Chrome testing to scale execution.
"Docker is the main solution to support the use of containers across the hybrid cloud. Its ubiquitous adoption since its introduction in 2013 makes it the premier platform for testing and deploying applications and services," said Hans Buwalda, CTO of LogiGear. "We are pleased to introduce TestArchitect on the Docker Hub to provide our clients with a path to building and shipping applications faster and easier."