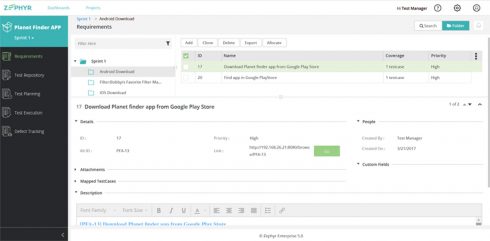 SmartBear is bolstering its test management portfolio with a newly announced acquisition. The company has revealed it is acquiring software testing company Zephyr.
Zephyr is known for its software test management solutions as well as its work with DevOps and continuous testing. Together, SmartBear plans to build "the most comprehensive set of test management solutions in the market" as well as continue to work on Zephyr's product line and its relationship with Atlassian.
"We are thrilled to have Zephyr join the SmartBear team," said Justin Teague, CEO of SmartBear. "The acquisition of Zephyr will establish SmartBear as a leader in test management and broaden our portfolio of high-impact, easy-to-use tools, which includes SoapUI, TestComplete, SwaggerHub, CrossBrowserTesting, Collaborator, and AlertSite."
According to SmartBear, test management is crucial for developing, testing and deploying high-quality software at today's market speed. With Zephyr, SmartBear is gaining Zephyr for Jira for native test management and Zephyr Enterprise for enterprise testing. In addition, SmartBear providers Hiptest for Behavior Driven Development and continuous testing.
"We created Zephyr to help organizations continuously improve efficiencies and collaboration for their software testers and developers," said Scott Johnson, CEO of Zephyr. "By leveraging the industry expertise and array of SmartBear solutions, our customers will continue to benefit from the tools they known and love, while now being able to solve additional software development challenges related to building, testing, and monitoring software applications across the UI and API layer."