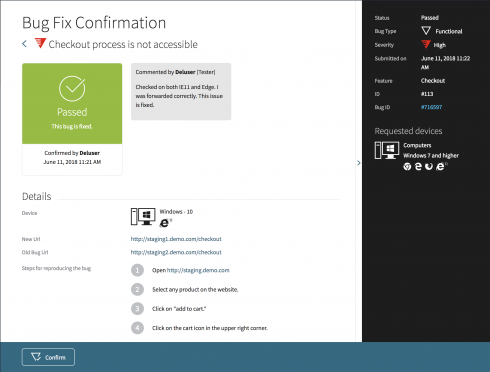 The pressure to move fast and release more often is resulting in more bugs being released out into production. The problem is there are not enough hands on deck to ensure all the boxes have been checked, even with the rise of test automation.
Crowdtesting solution provider test IO is releasing Bug Fix Confirmation today to ensure bugs actually get fixed before software is released. "We built this product to address the problem that sometimes you think you fix bugs, but they're not really fixed. Development teams have an internal process for verifying bug fixes, but it's a manual process that's slow and cumbersome. We've even heard that it sometimes takes longer to verify that a bug is fixed than it took to actually fix the bug!," Philip Soffer, CEO of test IO wrote in an email to SD Times.
Bug Fix Confirmation opens users up to an on-demand network of software testers equipped with the ability to fix bugs under real-world conditions. "It really bothers developers when they fix a bug and then a week later they're told the bug isn't really fixed, and they have to interrupt whatever they're doing and revisit the bug," Soffer wrote. "Making this process faster will also allow teams to achieve greater predictability in their release cycles, since they shouldn't have a queue of bugs to confirm at the end."
Developers can request to confirm a bug has been fixed with Bug Fix Confirmation by clicking a button labeled "confirm," selecting the test environment or uploading a new build and submit the request. Once test IO testers receive the request, they will repeat the steps that led to the bug, document the process on a real device, and provide automatic updates. In addition, they can update issue status, according to the company.