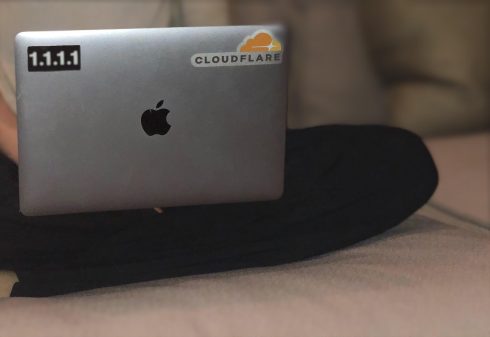 As part of its mission to build a faster, privacy -first Internet, Cloudflare has announced the release of Cloudflare 1.1.1.1, a new DNS service. DNS is a directory of the Internet that includes a content side and a consumer side. The new service is a consumer DNS service.
The company  obtained the memorable address 1.1.1.1 from APNIC, who owned the IP address but was constantly finding it unusable because the address was constantly being flooded with traffic of those just typing 1.1.1.1 into the browser. Cloudflare wanted an easy to remember IP address, and in exchange for studying the data on traffic to that IP, APNIC handed over the address.
1.1.1.1 supports both DNS-over-TLS and DNS-over-HTTPS. Up until now, Google was the only provider that supported DNS-over-HTTPS, according to the company. Cloudflare hopes that by building an independent service that supports DNS-over-HTTPS, people will create more experiments from browsers, operating systems, routers, and apps to support that protocol.
Drupal reveals a security vulnerability within Drupal 7 and 8
Drupal has announced that there is a vulnerability within Drupal 7.x and 8.x that could allow attackers to exploit attack vectors on Drupal sites, which would leave those sites vulnerable. Drupal is an open source solution for building websites and solutions.
The company has issued a fix, which can be obtained by installing the most recent version of Drupal 7 or 8 core.
In addition, the company releasing updates for Drupal 8.3.x and 8.4.x, even though those releases are no longer supported. The company has also stated that the vulnerability affects Drupal 6, which is at End of Life anyway.
Linux 4.16 is released
Linus Torvalds has announced the release of Linux 4.16. He claims that this release looks very similar to rc7 due to the fact that half of it is networking. Other new additions in this release are arch fixlets, driver fixes, and updates to documentation. A complete list of new features can be found here.
Redgate's SQL Monitor now integrates with the company's deployment tools
Redgate has announced that its SQL Monitor service now integrates completely with the company's deployment tools. This integration will offer more insight into what changes are being deployed and when. It will also provide customers with the ability to choose which deployment method best fits their workflow.
"Some of our users like the way Redgate ReadyRoll integrates with Visual Studio and generates numerically ordered migration scripts," said Jamie Wallis, product marketing manager for Redgate. "Others prefer SQL Compare, which is the industry standard tool for comparing and deploying SQL Server databases, or DLM Automation which plugs into the same build and deployment tools they use for their applications. We want to give them the freedom to stay with the tool they prefer, as well as reassure them that if there is an issue, SQL Monitor will help them track down the reason in seconds."