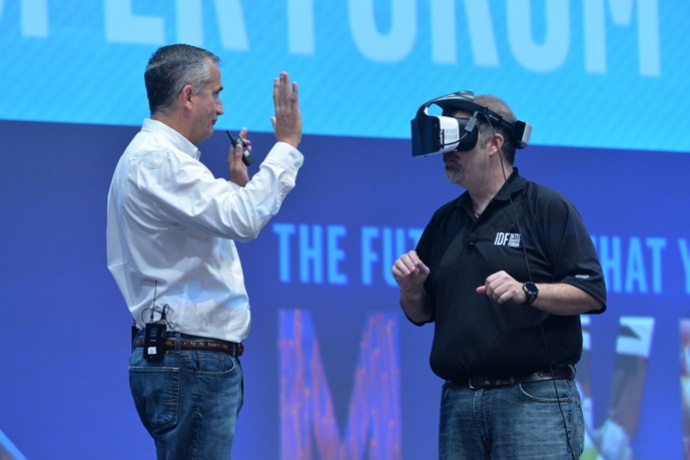 Intel has unveiled Project Alloy, an all-in-one virtual reality solution that demonstrates what the future of merged reality looks like today. Project Alloy was announced at the keynote of the 2016 Intel Developer Forum in San Francisco yesterday.
Alloy will deliver new immersive experiences by leveraging Intel's RealSense technologies that are optimized for virtual reality. The device will connect to a computer without the use of cords because the computing power is located in the Alloy Head-Mounted Device, which allows the user to have a free range of motion.
Alloy's merged reality technology uses RealSense cameras attached to the headset, and it does not depend on additional external sensors or cameras. Developers can begin to create immersive experiences, and Intel is also collaborating with Microsoft to optimize the Windows-based content on the device.
All of the hardware and open APIs will be available to developers and partners in 2017.
Ford wants autonomous vehicles ready by 2021
Ford plans on having fully autonomous SAE level 4-capable vehicles in commercial operation by 2021 for ride sharing or hailing services, so the company is collaborating with four startups to enhance its development and double the size of its Silicon Valley team and Palo Alto campus.
Getting autonomous vehicles on the road by 2021 is part of Ford's Smart Mobility plan, which is how the company said it will become a leader in autonomous vehicles as well as connectivity, mobility, data and analysis.
Ford will triple its autonomous vehicle test fleet to be about 30 self-driving Fusion Hybrid sedans on the roads of California, Arizona and Michigan, with plans to triple it again next year. Ford also announced four key investments and collaborations that will expand its research in things like 3D mapping and camera sensors. The companies include Velodyne, which works on light detection and ranging sensors; SAIPS, a machine learning company; Nirenberg Neuroscience, a machine vision company; and Civil Maps, a high-resolution 3D mapping capabilities company.
WalabotDIY lets developers see through walls
3D imaging sensor company Vayyar Imaging has launched a 3D imaging tool called WalabotDIY. The tool gives users "Superman" vision to see through drywall, cement or other objects to determine the location of pipes and other materials.
Walabot is also a series of 3D imaging devices that's compatible with Android devices 5.0 and higher. Developers can download the Walabot SDK and install a Windows SDK that includes an API tutorial application and sample code. There is also a Linux SDK installation, a Raspberry Pi installation, and an Android sample application. Walabot is testing additional phones and will be adding more devices compatible with it in the near future.
The pocket-sized device includes technology for developing apps that use radio frequencies, tridimensional sensing and image processing, and enabling applications like object tracking, breathing monitoring, and in-wall wire and pipe detection. Sample applications are provided with Walabot, and the flexible API allows developers to create their own applications to access Walabot as a peripheral, according to an overview of the technology.