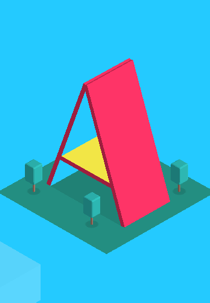 Today the MozVR team released the first version of A-Frame, an open-source framework for creating WebVR experiences with markup. According to its blog, A-Frame makes it easy for Web developers to create virtual reality experiences that work across desktop, iPhone (with Android support on the horizon), and the Oculus Rift. It uses WebGL in HTML custom elements, so creating a high-performance VR experience is easy for developers.
A-Frame also ships with "primitives" for common use cases such as 360-degree videos, images, models, skies, and more. Primitives make it easy to block out a scene in minutes, and they can also be combined with lighting, animation, sound and interactivity. (A full list of primitives is available here.) Developers can also manipulate A-Frame with standard JavaScript methods.
Google Developers team announces new global program
The Google Developers team has announced a new global program that helps developers become successful. There are already two other programs that help impact developers, and today it announced the Google Developers Agency Program, where it will work with developer agencies around the world and provide them with dedicated access to training and events, customized online resources, best practices and developer support, its blog said.
The goal is to help agencies build the highest-quality apps and products using Google technologies and make sure app creators are giving their users good experiences.
Windows released Windows 10 Insider Preview Build 11082
Microsoft has released Windows 10 Insider Preview Build 11082 to Windows Insiders in the Fast Ring yesterday. There are no noticeable changes in this build, according to the Windows blog. Instead, the team is focusing on product improvements based on feedback.
Changes include those to OneCore so that it can push Windows onto PCs, tablets, phone, IoT devices, Hololens and Xbox more efficiently. Microsoft is also refactoring code and doing other work to make sure OneCore is structured for teams to start checking in new features and improvements for next year.