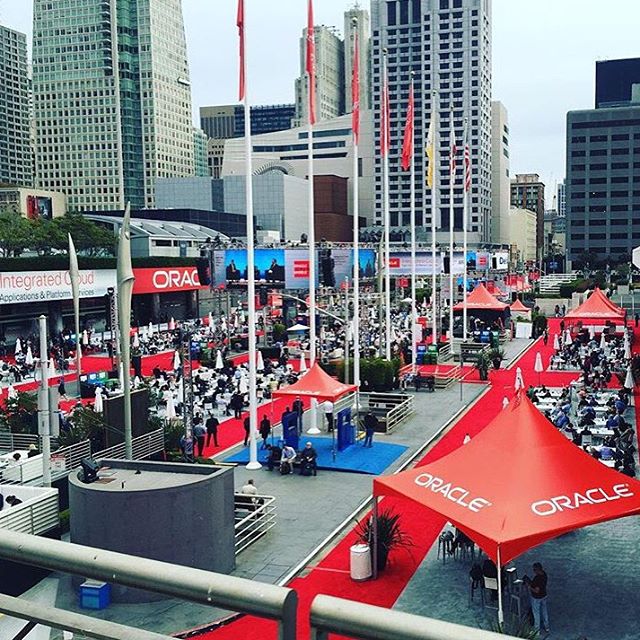 Larry Ellison, Oracle's executive chairman and CTO, said on Sunday at Oracle OpenWorld that the cloud, in general, was still in its infancy. To that end, he introduced several cloud product offerings, from Docker hosting to data hosting, to supply chain and more.
There's just one problem: Few people at the show seemed at all interested in using Ellison's cloud offerings. One developer we interviewed under condition of anonymity admitted that the new cloud offerings sounded like the highest level of vendor lock-in possible.
Just as in Amazon's cloud services, building within any cloud presents many architectural choices. Amazon solves many architectural headaches by offering in-cloud APIs with which to build applications. These APIs quickly become essential to any application that utilizes them and, in effect, hook that application into that specific cloud for life.
Oracle's Cloud services span every facet of the cloud: from Infrastructure-as-a-Service, to Platform-as-a-Service, the company introduced APIs and products to help bring enterprises into its cloud. These include integration services, database hosting, and even a third-party marketplace, just like Amazon.
But other attendees echoed the fear of vendor lock-in. Suri Nair, IT operations manager at the Overhead Door, agreed that using Oracle's cloud would be tantamount to giving it complete control of his IT infrastructure.
"They're not there," he said of Oracle's cloud offerings. "They have the materials, but they are not there yet; they are in a beginning stage."
Nair said he comes from the Oracle side of IT, and despite his loyalty, he feared Oracle's cloud lock-in most.
But the cloud was not on the minds of most development-focused attendees at OpenWorld and JavaOne, who said they were there to find ways to transform their development processes. Continuous Build and Continuous Integration were hot topics.
John Alden, architect at Liberty Mutual, said he was at JavaOne to find tools for CI and Continuous Delivery. Rather than worry about the latest framework or IDE, he was more concerned with tooling that could help him push agile methodologies into his organization.
Alden was preparing a new project at work that would be using all the new collaborative tooling, such as Bamboo and Nexus. Of his efforts to spread agile across a massive insurance company, he said, "Basically, you're going to use the environment. People are going to have to learn it because it's a huge change for people, but once you get used to it, it's really going to improve productivity. We're getting into microservices, BPM, and trying to get to some small deployables instead of these huge half-day deployments."
But Alden's real motivation for attending the conference was security. He said that Liberty Mutual is no longer simply mandating security; it's mandating rapid response to security issues, better testing, and generally treating security like a primary concern. This was a sentiment echoed by other attendees at the show: Businesses are mandating better IT security down to the application level.
More software
Oracle's announcements at its conference were not confined to cloud offerings. The company introduced enhancements to its Oracle Fusion Middleware. This edition includes many updated tools and systems. And WebLogic Server received its largest update in 10 years. New to this version is support for multi-tenancy, multi-data-center high availability, and full support for Java EE 7 and Java SE 8.
Oracle's Developer Tools were also updated with full Java EE 7 and SE 8 support. The Oracle Enterprise Pack for Eclipse and JDeveloper IDEs were both updated to include support for the new versions of Oracle Fusion Middleware, Oracle Reports and Oracle BI Publisher.
Oracle SOA Suite added Oracle Stream Explorer, which includes machine-learning capabilities. Oracle's SOA Suite's Business Activity Monitoring capabilities were also expanded to include new custom functions to help teams better understand customer specific key performance indicators.
Oracle also updated Solaris to version 11.3 at the show. The new version includes better security support through the SPARC M7's Security in Silicon capabilities. This version enables Secured Memory, which can stop buffer overloads and overwrites. This version also adds full-stack patching support, immutable VMs, and one-step automated updates.
Oracle OpenWorld continues until Friday in San Francisco.