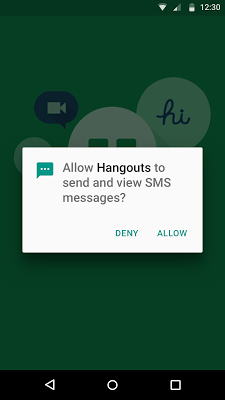 Google wants to help developers build better apps with the introduction of new runtime permissions. The new permissions will be replacing the existing install-time permissions model in the company's upcoming operating system, Android 6.0 Marshmallow.
"Runtime permissions give your app the ability to control when and with what context you'll ask for permissions," wrote Ian Lake, developer advocate at Google, in a blog post. "This means that users installing your app from Google Play will not be required to accept a list of permissions before installing your app, making it easy for users to get directly into your app."
In addition, the company is providing new permission design guidelines to give developers best practices for asking and using permissions.
Amazon announces new business model for Android apps
Amazon is tackling app monetization with the new Amazon Underground app for Android phones. Amazon Underground is a new business model that gives users access to more than US$10,000 worth of apps, games and in-app purchases that are free, according to the company. For every minute users use a developer's Amazon Underground app, the developer will get paid $0.002.
"You can now focus on building apps that engage your users over the long term," wrote Jeff Barr, chief evangelist for Amazon Web Services, in a blog post. "You can build up long-term storylines, roll out additional content over time, and count on a continued revenue stream that is based on actual usage."
Facebook introduces AI-based digital assistant
Facebook has announced a new AI-based service to its Messenger. M is a personal digital assistant that will complete tasks on a user's behalf, according to David Marcus, vice president of messaging products at Facebook.
"Unlike other AI-based services in the market, M can actually complete tasks on your behalf," he wrote in a Facebook post. "It can purchase items, get gifts delivered to your loved ones, book restaurants, travel arrangements, appointments, and way more."
Microsoft announces new Windows Insider PC Build
Microsoft has a new Windows 10 PC build for Windows Insiders. Build 10532 includes a number of bug fixes and improvements from build 10525, according to the company. The latest build includes improved context menus, as well as changes to the sharing Windows feedback app that will allow insiders to share their feedback with others.
Known issues include the inability to use Windows Hello face sign-on with some devices, and that the 64-bit version of Google Chrome will crash on launch.