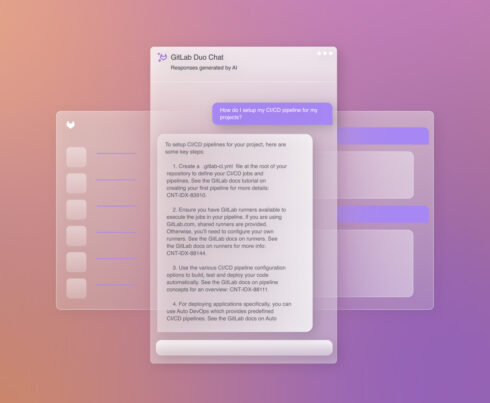 GitLab has announced updates to GitLab Duo, which is a suite of 14 AI capabilities, including Suggested Reviewers, Vulnerability Summary, and Code Explanation. 
According to a recently released survey from the company, the developers surveyed said they only spend about 25% of their time writing code. GitLab Duo helps improve product life cycle times because it can help with those non-development tasks as well, such as generating tests, value stream forecasting, and summarizing planning discussions. 
New updates across GitLab Duo include a beta of Chat and the general availability of Code Suggestions.
GitLab Duo Chat is an AI assistant that can help developers analyze their code, assist with planning, understand and fix security issues, troubleshoot CI/CD pipeline failures, and assist with merge requests, among other things. It is available as a beta feature in GitLab 16.6.
"The introduction of GitLab Duo Chat furthers our momentum and focus to bring AI beyond just code creation," said David DeSanto, chief product officer at GitLab. "To realize AI's full potential, it needs to be embedded across the software development lifecycle, allowing DevSecOps teams to benefit from boosts to security, efficiency, and collaboration."
Code Suggestions helps with new code creation and code updates. It will be generally available in the GitLab 16.7 release, coming in December. 
Kate Holterhoff, industry analyst at Redmonk, added: "The developers we speak with at RedMonk are keenly interested in the productivity and efficiency gains that code assistants promise. GitLab's Duo Code Suggestions is a welcome player in this space, expanding the available options for enabling an AI-enhanced software development lifecycle."