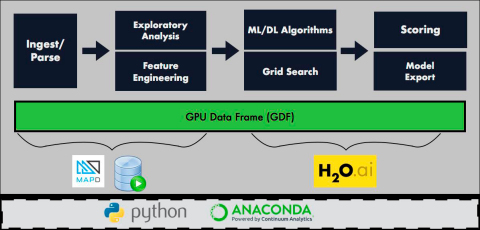 Data science and deep learning app leaders are coming together to form the GPU Open Analytics Initiative. The goal is to create common data frameworks that enable developers and statistical researchers to accelerate data science on GPUs. Initial members include Continuum Analytics, H2O.ai and MapD Technologies.
The initiative's first announced project is an open-source GPU Data Frame with corresponding Python API.
"The data science and analytics communities are rapidly adopting GPU computing for machine learning and deep learning. However, CPU-based systems still handle tasks like subsetting and preprocessing training data, which creates a significant bottleneck," said Todd Mostak, CEO and co-founder of MapD Technologies. "The GPU Data Frame makes it easy to run everything from ingestion to preprocessing to training and visualization directly on the GPU. This efficient data interchange will improve performance, encouraging development of ever more sophisticated GPU-based applications."
Red Hat announced OpenStack Platform 11
Red Hat is releasing the latest version of its scalable and agile cloud Infrastructure-as-a-Service (IaaS) solution. OpenStack Platform 11 provides improved support and upgrades, new networking capabilities, and integration with Red Hat CloudForms for cloud management. The release is based on the OpenStack "Ocata" release.
Other features include: full support for VLAN-aware virtual machines, and additional telecommunications provider enhancements. "As OpenStack deployments grow in scale and scope, enterprises need a clear path forward to embrace new innovations without sacrificing their existing deployment structure. Red Hat OpenStack Platform 11 helps to provide this path forward," said Radhesh Balakrishnan, general manager of OpenStack at Red Hat.
Google teams up with AIY Projects
In order to make artificial intelligence easier to consume for makers, Google's Android Things team is teaming up with a new initiative designed to provide DIY AI solutions. AIY Projects just announced its first open-source reference project for building voice user interfaces that use cloud services or run on-drive. In addition, Google is releasing Android Things Developer Preview 3.1 build for Raspberry Pi 3 in order to support the voice kit.
"We are excited to see what you build with the Voice Kit on Android Things. We also encourage you to join Google's IoT Developers Community and Google Assistant SDK Developers on Google+, a great resource to keep up to date and discuss ideas with other developers," Ryan Bae, from the Android Things team, wrote in a post.
NVIDIA releases VRWorks SDK
NVIDIA is releasing a suite of APIs, libraries and engines to enable developers to create VR experiences. The company announced the VRWorks SDK includes a 360 video and audio SDK as well as PhysX to bring realistic sound, touch and physical simulations to VR solutions. Businesses and professional app developers like Autodesk, ESI Group and OPTIS have already started integration VRWorks into their VR apps.
"With NVIDIA VRWorks, we were able to take advantage of the latest technology and performance enhancements in VR with the process to integrate scalable link interface rendering and Ansel integrations for Autodesk Stingray," Frank Delise, senior director of interactive experiences at Autodesk, said in a statement.