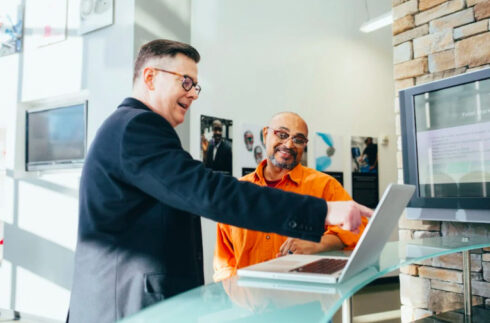 Because of ChatGPT, a lot of the current ways of working are in the process of morphing into something different. One area of the business where this is especially true is marketing.
ChatGPT, and other generative AI technologies, are particularly good at communication, rewriting content, and generating ideas, which makes it the perfect companion to help with marketing strategy. 
And while there was a lot of hype around ChatGPT when it first launched, that initial hype has died down a bit as people incorporate it into their workflows and discover what is and isn't possible. While many marketers are finding success in using it for some elements of their jobs, many also believe it is not quite at the point it needs to be to do it all. 
"I think what I see more likely to be the adoption is more of a generation tool to generate content options, but then have a marketer or a human in the loop to edit, approve and publish those choices. It's much easier to edit something rather than to create something from scratch," said Kimen Warner, VP of product management at Drift, a company that provides conversation tools for marketing.
Content generation is one of the main use cases when it comes to being used for marketing. You could use it to generate ideas for social media campaigns, or even utilize existing content to create several unique posts. For example, you could give it a blog post you've written and ask it to create five social media posts to promote that blog. 
"We've been known to take an intro paragraph of our client's blog and pop it into ChatGPT asking it to write it three ways with various tonalities to allow us to repurpose the content from a different angle," said Karlyn Ankrom, founder and lead strategist at Oh Snap! Social.  
David Pring-Mill, founder of the website Policy2050.com, shared some insights from a survey the site did of marketing and communications leaders earlier this year. He explained that one of the themes of the responses was that in this area "ChatGPT performs better as an assistant than it does as an independent creator."
"Put another way, it's like a creative engine that can dramatically accelerate you, but you still need to know how to drive and understand the terrain. Otherwise, you might end up skidding off the road without even realizing it," he said.
Amy Kenigsberg, COO and co-founder of marketing agency K2 Global, noted that ChatGPT currently writes at a pretty basic level. "It'll use the same word three times in the same sentence. Five years from now, I will probably not have any of these complaints. But right now, it's still in its infancy," she said.
Faris Khatib, CEO of IdealTax, says they don't even use it to write content because of this. "We've found that it isn't able to replicate the kind of writing we want to use in our marketing materials," he said. However, they do use it to brainstorm content and find that even though it can't write what they want, "having its suggestions as part of our brainstorming process has helped us to keep ahead of marketing trends."
In cases where someone is feeling stuck and is just staring at a blank page, it could be useful in getting something going, which can later be edited. 
"When I write website copy, staring at a blank page is the most difficult way for me to start. I use ChatGPT to begin writing content so I can edit and expand on it. I've found that I don't even use the AI generated content very often. I use it more for inspiration, like a Pinterest board for text. It speeds up my brainstorming process considerably," said Mike Lloyd, owner of luxury photography studio Mike Lloyd Studios.
The impact on SEO from using ChatGPT-generated content should also be considered before hitting the "copy" button. It has long been understood that Google penalizes you for having duplicate content, and you have no way of knowing how unique the words that ChatGPT is generating are. "I err on the side of caution and tweak everything it writes to ensure that it will be unique," said Lloyd.
He also cautioned that it's possible that one day Google and other search engines will have methods for detecting computer generated content, which could be another way SEO could be lowered from using content generated solely by ChatGPT. 
Another use for ChatGPT is customer research. Kiran Lachwani, head of marketing and operations at hair care company Power Your Curls, said that it could be used to better understand your customer's interests, preferences, habits, and demands. This information can then be used to create more targeted campaigns. 
"With the help of its natural language processing (NLP) capabilities, ChatGPT can create content that is specifically catered to the needs of your customers based on their preferences, past behavior, and demographics," said Lachwani. "This can help you create engaging content for your audience, which could raise engagement and conversion rates."
You can learn even more about your customer through user surveys, which ChatGPT can help with by generating questions, organizing survey design, translating into different languages for different customers, and even help you analyze survey results, Lachwani explained.
However, one caveat to that is that ChatGPT was trained on data from before 2021. So if you're trying to learn about things that have happened recently, or research topics that change frequently, like technology, then it might not be giving you the most up-to-date information. 
Therefore, if your customers are in one of those fast-moving industries, you may not find ChatGPT to be as useful as a research tool.
Drift's Warner also pointed out that the system's goal is to provide an answer to what you ask, but that answer isn't necessarily always going to be correct, so it's always important to have a human verify the information.