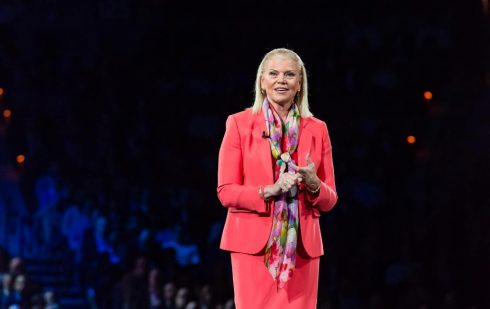 IBM announced several new initiatives, including a call for tech companies to follow IBM's Responsible AI and Data Principles and a Call for Code at the VivaTech conference in Paris today.
At the conference, Ginni Rometty, chairman, CEO and president of IBM, called on all tech companies to adhere to the Responsible AI and Data Principles that IBM published two years ago.
The company explained that while this is timely with current events, it is not in response to the recent backlash against tech giants.
The Responsible AI and Data Principles states that data belongs to its creator and that a company's data and the insights gained from it belong to that company.
It also states that AI needs to be transparent, explainable, and should be used to augment human intelligence, not replace it. Companies should be open about who trained a model and with what data. They should also be able to explain how AI reaches a decision and show proof for that.
According to the company, those principles are built into Watson. IBM believes that any company putting AI on the market should adhere to those principles as well.
Rometty also announced the Call for Code initiative, which tasks developers with coming up with solutions that will help alleviate the aftermath of natural disasters.
"At IBM, we fundamentally believe in the power of technology to make our world a better place to live, and to benefit the lives of the many, not just the few," said Ginni Rometty, Chairman, CEO and President of IBM. "We all have a responsibility to use innovation to make a difference and through this initiative our collective goal is to help people in need and it build a better future."
IBM is committing its technology as well as $30 million over five years. The funding will provide access to developer tools, technologies, free code, and training with experts. It wants developers to explore areas related to data and AI, blockchain, cloud, and IoT technologies in order to address the issues our world faces.
The company will be partnering with the David Clark Cause for this initiative, and it has support from the United Nations and the American Red Cross.
Examples of the types of applications are those that reduce vulnerability by forecasting threats, improve precautionary measures, respond to medical emergencies during a disaster, and improve the overall resiliency of communities to rebuild after disasters.
For example, an application can be built that alerts pharmacies to increase stocks of antibiotics, insulin, bottled water, and vaccines based on weather forecasting.
A panel of to-be announced eminent technologists will judge the winning application, explained Angel Diaz, VP of developer technology and advocacy at IBM. The winning application will quickly transition to real-world use via IBM's Corporate Service Corps, which sends IBM experts to underserved communities to apply technology to local issues.