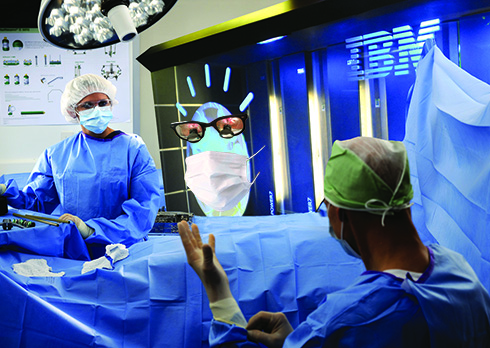 In the three years since winning "Jeopardy," Watson hasn't made many headlines, but the ever-evolving supercomputer has gotten smarter, faster and smaller while dipping its toes into a lot more than trivia.
On Valentine's Day 2011, Watson took on Ken Jennings and Brad Rutter in a three-game tournament of "Jeopardy," beating two of the most successful contestants in the game show's history. Badly. Watson ended the game with a score of US$77,147, more than triple Jennings' $24,000 and Rutter's $21,600.
"Since 'Jeopardy,' there's been a lot of application development that's gone on top of Watson, and a lot of base improvements," said Jerry Cuomo, IBM fellow and CTO of IBM WebSphere. "We've focused on bringing Watson to healthcare, financial markets, retail, really expanding it beyond the game-show model."
In January, IBM gave Watson a billion-dollar vote of confidence, investing that amount in the new Watson Group focusing on research and development of cloud-based cognitive applications and services. Only a month and a half later, at Mobile World Congress, the Watson Group launched the Watson Mobile Developer Challenge, a global competition giving developers a chance to leverage the supercomputer's APIs into a new generation of mobile apps.
(Related: What Watson was up to since "Jeopardy")
At the time of Watson's "Jeopardy" appearance, it was the size of a master bedroom. It's now been reduced to the size of three stacked pizza boxes, and uses hypothesis generation techniques such as data mining, optimized algorithms and text analytics to answer questions. According to IBM, Watson's engineers have also reduced its codebase by 30%, improved response speed by 240%, and increased question length from two sentences to 14 pages.
Healthcare, retail and food trucks
Using a new natural language processing feature, Watson can now decipher industry-specific data such as doctor's notes and medical jargon, bringing its superhuman intelligence to the healthcare field.
"Think about an oncologist giving a diagnosis to their cancer patient," Cuomo said. "The doctor checks their Watson mobile app, and it gives them a different diagnosis than they expected. Maybe the reasoning is because they're a mere mortal and couldn't have read all the reference material to make the correct diagnosis. In this context, Watson helps not only the quality of the results but the reasoning behind the results."