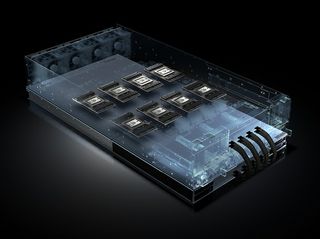 Microsoft and NVIDIA want to accelerate artificial intelligence computing in the next generation of cloud technology. The companies announced the HGX-1, an open standard hyperscale GPU accelerator, at the Open Compute Project (OCP) Summit today.
"AI is a new computing model that requires a new architecture," said Jen-Hsun Huang, founder and CEO of NVIDIA. "The HGX-1 hyperscale GPU accelerator will do for AI cloud computing what the ATX standard did to make PCs pervasive today. It will enable cloud-service providers to easily adopt NVIDIA GPUs to meet surging demand for AI computing."
(Related: How the landscape is changing in the cloud wars)
The HGX-1 was designed alongside Microsoft's Project Olympus to provide hyperscale data centers with a fast path for AI. Project Olympus is Microsoft's next-generation hyperscale cloud hardware design that was announced last November. Since then, the company has introduced a new hardware development model for Project Olympus, and has released the first OCP server design.
"The HGX-1 AI accelerator provides extreme performance scalability to meet the demanding requirements of fast-growing machine learning workloads, and its unique design allows it to be easily adopted into existing data centers around the world," wrote Kushagra Vaid, general manager and distinguished engineer for Azure hardware infrastructure at Microsoft, in a blog post.
Microsoft hopes Project Olympus can help provide a blueprint for future hardware development and collaboration.