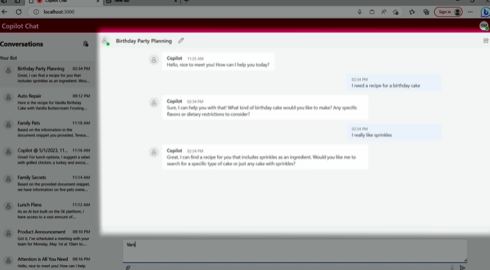 Over the past several months, companies have been feeling the pressure to incorporate generative AI into their applications, as users come to expect this sort of functionality in their tools. 
Now, Microsoft is making it easier for companies to do so with the release of Semantic Kernel's Copilot Chat sample app. Developers can use the new tool to integrate large language models (LLMs) into their applications. 
RELATED CONTENT: SD Times Open-Source Project of the Week: Semantic Kernel
The sample app enables multiple conversation topics, speech recognition, file uploads, persistent memory storage, and downloadable bots that can be shared with others. 
According to Microsoft, some ideas for apps that can be created are a customer service tool, personalized recommendation system, HR assistant, educational tool, or e-commerce assistant. 
Benefits include improved user experience because information is more easily obtained, improved efficiency by removing the need for human intervention, improved accessibility by providing personalized assistance to users based on their needs, and the ability to easily scale to meet demand. 
"By providing personalized assistance and natural language processing, your own chatbot can improve the user experience for customers, students, and employees alike. Users can get the information they need quickly and easily, without having to navigate complex websites or wait for assistance from a customer service representative," Shannon Monroe, principal program manager at Microsoft, wrote in a blog post. 
Like the Semantic Kernel that it is built upon, Copilot Chat is open-source and can be accessed through GitHub.