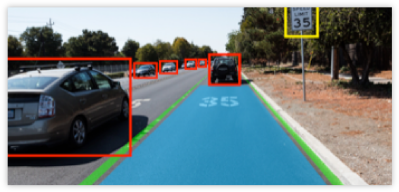 NVIDIA and TomTom are partnering to develop a new artificial intelligence service that can create a cloud-to-car mapping system for self-driving cars.
The system uses TomTom's HD map coverage, and it uses the NVIDIA DRIVE PX 2 computing platform. The solution accelerates support for real-time in-vehicle localization and mapping for driving a vehicle on highways.
The NVIDIA DriveWorks software development kit also integrates support for TomTom's HD mapping environment, and the solution is available to automakers and tier 1 suppliers developing self-driving vehicles.
Report: Why digital transformation matters
CA Technologies has determined the impact digital transformations are having on enterprises with its survey: "Keeping Score: Why Digital Transformation Matters." The study looked at practices like agile, DevOps, API management, security boosts and how this all impacts businesses.
"The ascendancy of customer experience today is driving technology—specifically software—into the heart of every company's business model," states Otto Berkes, CTO of CA Technologies.
The research led to CA introducing the Digital Transformation Business Impact Scorecard, which ranks countries and industries across 14 key performance indicators that are critical for transformation success. According to 1,770 senior-level business and IT executives, 74% reported that digital transformation has improved their customer experience, and 76% reported that digital transformation improved the company's digital reach.
The full report can be reviewed here.
FileMaker for the cloud
FileMaker has announced a new cloud-based platform for managing and running custom apps, called the FileMaker Cloud. This platform gives organizations the ability to develop and manage custom apps without having to spend time and resources deploying a server.
FileMaker Cloud provides reliable access to custom apps, and data is managed by the cloud to run on Amazon Web Services Cloud. Features of this release include fast deployment, network security, FileMaker Cloud admin console, and a separate data/configuration setup that allows developers files to be separated from their instance of FileMaker Cloud so that software updates and service restart can be completed faster.
FileMaker Cloud is currently available in the United States and Canada. Organizations and developers can sign up to be notified when it is available in other regions.
XebiaLabs new plug-ins streamline Continuous Delivery
XebiaLabs announced new integrations today, including plug-ins for Ansible, Docker, Docker Compose and Kubernetes. These integrations can help enterprise IT teams manage their container deployments and gain more insight into the process of delivering enterprise software.
The new plug-ins simplify the process for enterprises to automate steps in technology like Docker Compose or Kubernetes, and they are a part of a streamlined and Continuous Delivery software pipeline.
"Container technologies such as Docker have gained great popularity but have also introduced new complexities," explained Vincent Partington, CTO of XebiaLabs. "While Kubernetes and Docker Compose help manage the complexity of containers themselves, they do not address the overall challenges of release orchestration. And in many cases, containers create additional complexity and dependencies that must be managed."
The new plug-ins will be available to download on XebiaLabs' website on Oct. 7, and the Docker plug-in for XL Deploy will be available on Oct. 15.