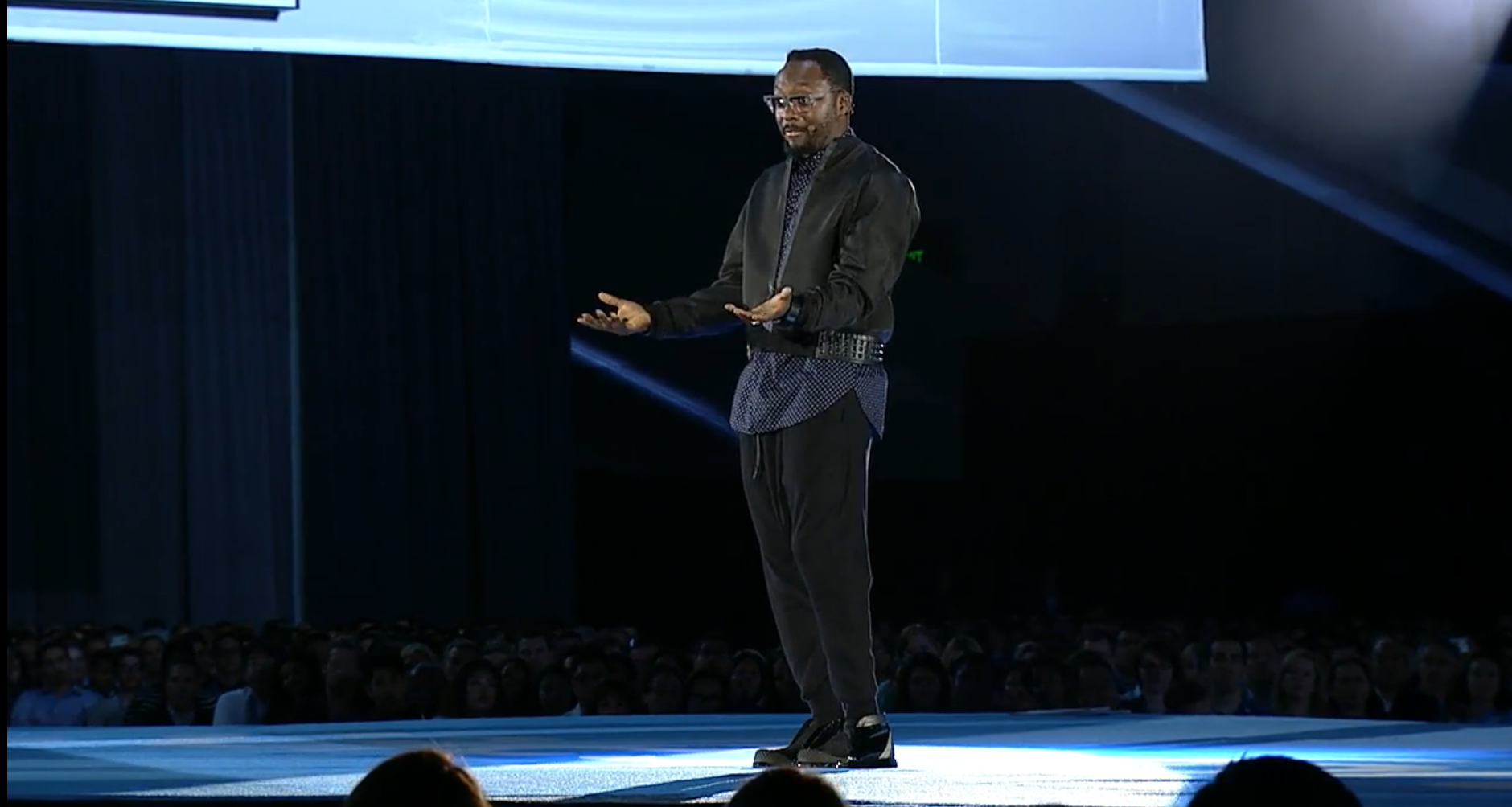 Some tech companies manage to transcend technology. Under Steve Jobs, Apple defined itself as a purveyor of beautiful devices for artists and renegades. Under Marc Benioff, Salesforce is defining itself as a San Francisco-centric cultural force. His company's annual Dreamforce conference, which this year hosted 140,000 attendees, celebrated SaaS, live music, philanthropic action, self-improvement, data science and wearable technology.
Produced by the George P. Johnson Company, a 100-year-old, Detroit-based global experience marketer that got its start putting on chrome-sparkled car shows, Dreamforce packs more punch than conferences by much larger rivals. In 2014, it commandeered a huge swath of San Francisco around the Moscone Center. Four massive outdoor screens showed talks by Hillary Clinton, Arianna Huffington, perennial Salesforce guest Tony Robbins, Will.I.Am, Neil Young, Al Gore, Marc Andreessen and more to attendees who lolled in beanbags on the grass-carpeted avenue connecting both sides of the Moscone Center. Thousands more were packed into the auditoriums below ground, watching Benioff pacing restlessly as he talked to the audience. Music ranging from local bands Foreverland and Pop Fiction to traditional Hawaiian to the Beach Boys was pristinely presented, culminating in a fabulous concert by Bruno Mars and Cake at the Civic Center plaza.
The buzz words this year? "Analytics" and "relationship," modified by "predictive" and "intelligence", respectively. Salesforce's big platform announcement was the Salesforce Analytics Cloud, "powered by Wave." Wave "is a nice presentation layer, but we'll have to see how they build it out," one vendor told me on the sales floor. In live demos, Wave drilled into a variety of big data sources and dynamically displayed graphics that rapidly rendered as parameters changed.
(More from Dreamforce: Salesforce enters the mobile app development and analytics market with Wave)
The trouble is, "Salespeople are allergic to CRM," someone at the RelateIQ booth said. That's why their product finds the data on their own. Recently acquired by Salesforce, RelateIQ uses natural language processing to parse action items from email and remind users to make that call they promised before 5 pm. The company's famed data scientist, DJ Patil, gave a rousing pep talk at the conference that, several attendees agreed, was short on details of how actual data science was at play in their product (Salesforce declined an interview with Patil for a related story on big data.) Wave should be fleshed out soon: 6Sense, C9, Fliptop, Gainsight, Lattice Engines, Predixion and Wise.io are among the predictive-analytics companies Salesforce announced as partners.
In one respect, Salesforce would love to be more Apple-like: Its app store. Last year's announcements about the promise of a Salesforce-specific App Exchange have generated mixed results so far. Several vendors on the sales floor with apps available on the exchange felt that Salesforce needed to drive more traffic to the site, as sales were still low.
A compelling message wove through Dreamforce from start to finish: the cultural importance of philanthropy. From food drives to the state-of-the-art surgical ambulance and flight nurses funded by Benioff, from opportunities for attendees to assemble kits for homeless kids to a tear-inducing film about Salesforce's massive donations to the San Francisco Unified School District, there was a sense that, even if charity was good business for someone in the business of relationship-building, Benioff's generosity is genuine. The company's actions as San Francisco's biggest tech employer stand in contrast to the tone-deaf conflicts of other tech employers with longtime city residents. As San Francisco Unified School District Superintendent Richard Carranza put it, Salesforce's $5 million donation, in addition to volunteer hours and technology contributions, make perfect sense as an investment in the city as a modern "Mesopotamia of technology and learning."
Ironic or not, the message of Dreamforce seemed to be: find meaning. "We've shrunk success down to two metrics: money and power. Thriving is giving, well being, wisdom and wonder," Arianna Huffington told the conference after leading a short meditation. Will.I.Am rolled out reveal after technical reveal in his keynote unveiling a wearable computer, but the most compelling moment was when an aspiring teenage engineer — a Latina girl from a gang-riddled Los Angeles neighborhood — described the app she built for the device. Holding back tears, she turned to Will.I.Am and said, "You are our superman."