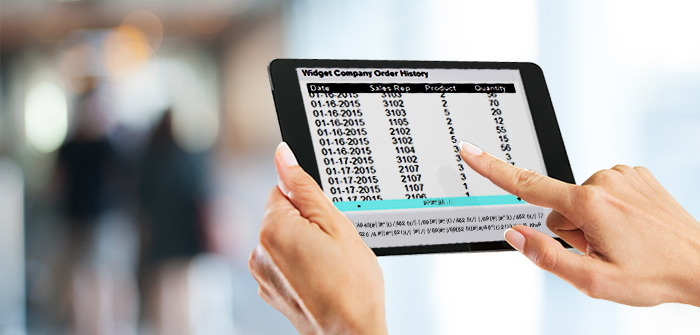 Altova announced this morning new pricing and functionality for MobileTogether 2.1, a framework for building and deploying native mobile apps.
Version 2.1 introduced more than 20 features based on developer feedback, from functionality for building tables, to error-handling actions, and also flexible options for UI design.
With MobileTogether 2.1, the app development environment is free of charge, so it can be rolled out to an unlimited number of developers in a company. Besides the new pricing, the enhancements to tables in MobileTogether 21 include scrollable tables and the ability to align nested tables. These enhancements will help developers for building tables of any size, said the company.
"Support for scrollable tables provides flexibility for table creation in MobileTogether," wrote Erin Cavanaugh, marketing director for Altova, on the company's blog. "Now, to ensure easy display on devices of all sizes, developers can set the maximum visible size of a table, or set it to fit the rest of the screen, with horizontal or vertical scrolling enabled to view the rest."
Also with MobileTogether 2.1, there are new controls to allow developers to add visual elements to their UIs, new actions, and new XPath functions, properties and operators.
Amazon adds functionality to Alexa Skills Kit for developers
Today Amazon introduced the Smart Home Skill API for the Alexa Skills Kit, which enables developers to add capabilities to Alexa. Developers can now teach Alexa how to control their cloud-controlled lighting and thermostat devices so customers can give Alexa commands like, "Alexa, turn on the kitchen lights."
With this API, there is no need to build a voice interaction model to handle customer requests. This work is done when the Smart Home API is used. Developers can create skills that connect the devices directly to the lighting and thermostat capabilities so that customers can control their lights, switches, smartplugs or thermostats.
Amazon first introduced the Smart Home Skill API as a beta called the Alexa Lighting API in August 2015. As part of the beta program, the company worked with other companies such as Ecobee, Nest, Samsung SmartThings, Sensi and Wink to gather developer feedback while extending Alexa's smarthome capabilities to work with its devices.
Anchore startup wants to build safer software
Anchore, a startup based in California, said it has a new way to inspect, track and secure software containers. The company says that it wants to attack a different problem by making sure that what is in the container itself is ready to go before the container goes into full production, according to a Fortune report.
An early version of the software, which will be made available as a subscription service, has been tested by a couple of unnamed Fortune 10 companies, cofounder and CEO of Anchore Saïd Ziouani said.
A fuller test version of the product should be out in the second quarter, and developers can sign up for that now. General availability is expected later this year. CoreOS, Docker and Mesosphere have components that do some of what Anchore can do, wrote Fortune, but Ziouani said users of those tools will also want to use Anchore to give them a view into the container from its creation until deployment in production.