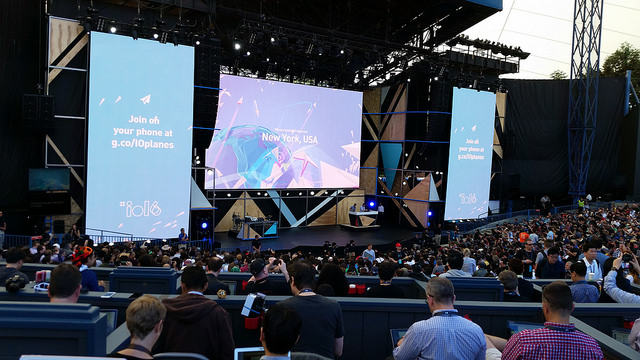 Google I/O moved only 40 miles south of San Francisco, but the conference might as well have been hours away when compared to previous years. Hosted at the Shoreline Amphitheater, the same venue at which the remnants of the Grateful Dead play, this year developer conference was held outdoors.
This move to Mountain View, next door to the Googleplex, enabled the company to host a much larger crowd of developers, press and executives, said the company's CEO, with more than 7,000 developers attending this year. Attendees viewed the keynote from a grassy lawn, and handouts included sunscreen and sunglasses.
Even before this morning's keynote began, Google was enticing attendees to throw virtual paint and paper airplanes onto the central screen, using their phones' motion sensors and a Web application.
(Related: Google freezes Go 1.7 ahead of beta release)
Google CEO Sundar Pichai delivered the keynote address, in which he detailed Google's plans for its Cloud Platform, Android, and its myriad other properties. He led with some numbers. In the 17 years since Google was founded, he said, the Internet has leapt from 300 million users to 3 billion. Of those 3 billion users, many are now using mobile as their first mode of access.
More than 20% of mobile search queries are now coming through voice input, said Pichai. He added that Google's voice recognition capabilities have evolved greatly since their introduction 10 years ago. "We recently started training our data sets with noisy backgrounds deliberately," he said.
Today, said Pichai, Google translates more than 140 billion words in more than 100 languages. This all comes thanks to, as Pichai put it, Google's "profound advances in machine learning and AI. I believe we are at a seminal moment. We are poised to take a big leap forward in the next 10 years. Leveraging our capabilities in machine learning and AI, we want to be more assistive for our users."
Pichai then announced the Google Assistant, a voice-based interactive helper. This extension of its existing mobile voice search functionality will increase the context comprehension of the service. Thus, users will be able to ask follow-up questions using pronouns instead of proper nouns for their queries. He demonstrated this by first asking Google who directed "The Revenant," then asking, "Show me his awards.
"We think of it as a conversational assistant. We want users to have an ongoing two-way dialog with Google. We want to help get things done in the real world, and we want to understand your context, giving you control of it."
The Google Assistant forms the basis for a new hardware device to be launched later this year. Google Home will bring Google Assistant into the house with capabilities that even Pichai admitted were inspired by Amazon Echo.
Google Home differs from Echo by also linking into Chromecasts and other in-home devices like Nest to control music and video playback around the house, using voice commands. This will potentially work for the existing 25 million users of Chromecast. Google Home will come with a changeable decorative base, and will have no buttons whatsoever.
Pichai then introduced a new messaging application built in the image of Snapchat and WhatsApp. Dubbed Allo, it uses image recognition capabilities to offer proper responses to images sent back and forth.
Erik Kay, engineering director at Google, demonstrated this capability by receiving an image of a dog. Allo then automatically generated a number of quick responses, ranging from "Cute Dog" to "Nice example of a Bernese Mountain Dog."
Allo is also connected to Google Assistant, and thus users can make reservations for dinner or simply search Google, all without leaving Allo. The system also includes security controls, allowing users to delete conversations forever, and to use incognito mode, similar to that offered in Chrome.
Kay then introduced Duo, a simple one-to-one video calling application. "It's end-to-end encrypted, and it's based on your phone number. It works on both iOS and Android," he said. Another feature is Knock Knock, allowing calls to come through first with a live feed from the caller, letting receivers choose whether to answer or not based on what they see before answering.
Duo is based on WebRTC, but also includes a new network protocol called Quick UDP Internet Connections. Google began work on this protocol back in 2012, though this would seem to be the first application Google has publicly stated utilizes the technology. Kay went on to state that Duo is extremely reliable and functions in low-bandwidth situations, and can seamlessly switch between WiFi and cellular.
Google I/O continues through Friday.