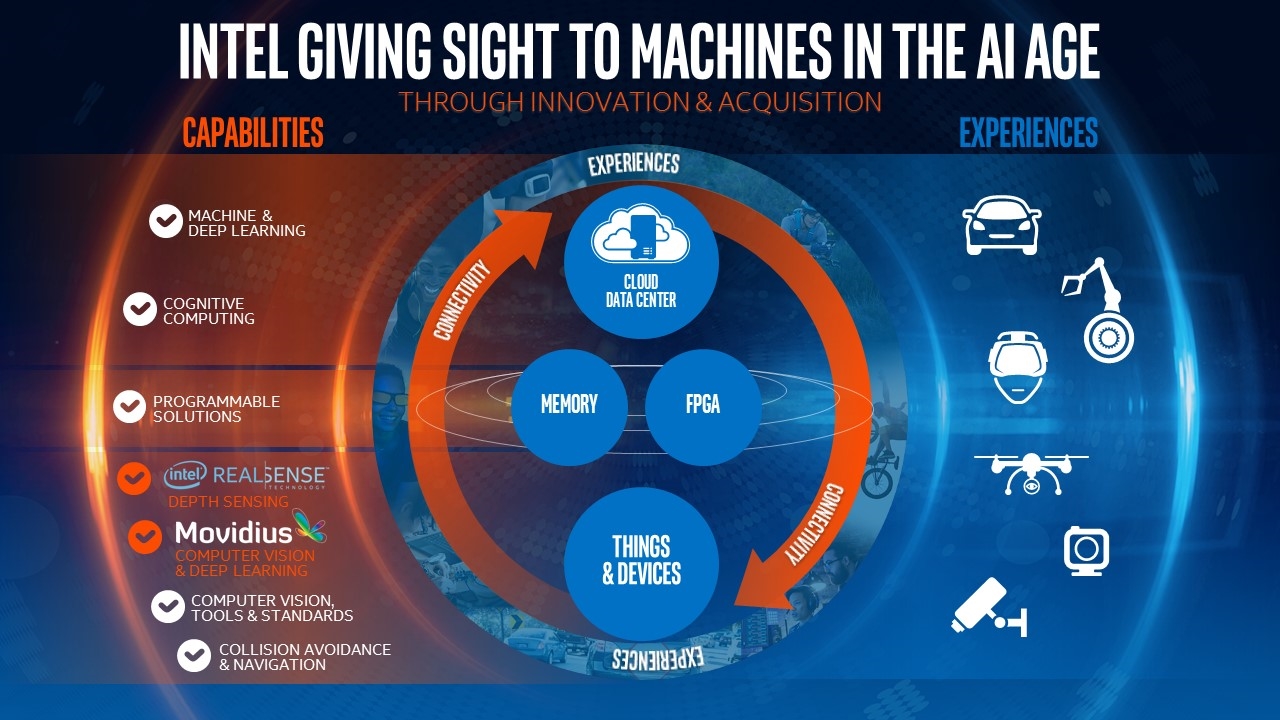 Intel is looking to extend its depth-sensing technology RealSense in order to enable autonomous machines to see in 3D and understand the environment around them. The company announced it is acquiring Movidius, a computer vision company.
"With Movidius, Intel gains low-power, high-performance [system on a chip] platforms for accelerating computer vision applications," wrote Josh Walden, senior vice president and GM of Intel's New Technology Group, in an editorial. "Additionally, this acquisition brings algorithms tuned for deep learning, depth processing, navigation and mapping, and natural interactions, as well as broad expertise in embedded computer vision and machine intelligence. Movidius' technology optimizes, enhances and brings RealSense capabilities to fruition."
Movidius' Vision Processing Unit will be combined with Intel's RealSense Technology.
Top technology companies team up against gag orders
Amazon, Apple, Google and Mozilla want to help Microsoft fight gag orders. According to Reuters, the companies are supporting Microsoft's lawsuit to tell its customers whether the government is requesting their data.
"When requesting user data, these gag orders are sometimes issued without the government demonstrating why the gag order is necessary," wrote Denelle Dixon-Thayer, chief legal and business officer at Mozilla, in a blog post. "Worse yet, the government often issues indefinite orders that prevent companies from notifying users even years later, long after everyone would agree the gag order is no longer needed. These actions needlessly sacrifice transparency without justification. That's foolish and unacceptable."
According to Microsoft, these gag orders violate the Fourth Amendment.
Qualcomm and Verizon tackle the Internet of Things
Qualcomm and Verizon are teaming up to improve the innovation, productivity and value of the Internet of Things. Verizon will pre-integrate its ThingSpace IoT platform with Qualcomm's LTE modem as a way of simplifying the process of building, deploying and managing IoT apps.
The ThingSpace platform on Qualcomm's MDM9206-based solutions will be available early next year.
"When it comes to the Internet of Things, no single company can go at it alone in order to scale from the millions of devices to the billions of devices needed to create cleaner cities, deliver better healthcare, conserve water, and make the digital world work better for consumers and citizens," said Mike Lanman, senior vice president enterprise products and IoT at Verizon. "Simplicity is a necessary starting point, and working across the ecosystem—at the network, platform and application levels—is also needed in order to capture the real market opportunity of the Internet of Things."
Qt releases 5.8 alpha
Qt is one step closer to the release of version 5.8 of the company's cross-platform solution for embedded and desktop development. The company announced the alpha version of Qt 5.8 is now available for download.
Qt 5.8 will feature a new graphics architecture, QML caching, the Qt Lite project, a new tool for device creation, and new modules.
The beta version of Qt 5.8 is expected to be released the beginning of next month, with the final version expected to be ready by the end of November.
More information is available here.