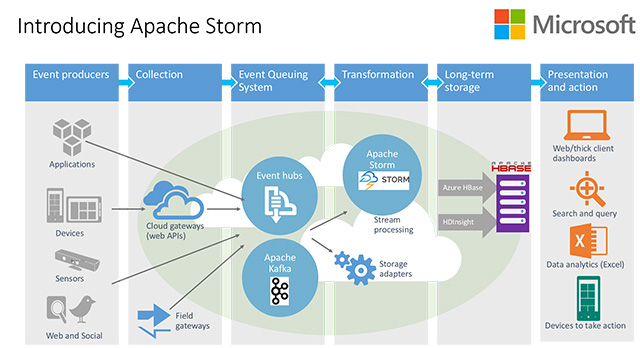 Microsoft has extended its Azure data services with real-time analytics and machine-learning capabilities, the company announced at Strata + Hadoop World in New York City.
Azure HDInsight is getting enhanced analytics capabilities for use with Apache Hadoop, so companies can gain knowledge of new opportunities, according to a blog post by T.K. Rengarajan, corporate vice president, data platform, at Microsoft. Apache Storm is also now supported in Azure HDInsight, in preview availability. Storm is a distributed computation framework that brings real-time data processing to Hadoop.
Azure Machine Learning provides cloud-based predictive analytics and connects to HDInsight, according to Microsoft. On its website, Microsoft writes: "Machine learning – mining historical data with computer systems to predict future trends or behavior—t touches more and more lives every day. Search engines, online recommendations, ad targeting, virtual assistants, demand forecasting, fraud detection, spam filters—machine learning powers all these modern services."
ML Studio, the drag-and-drop environment for Azure Machine Learning, lets users without deep data science backgrounds mine data for predictions using gestures and simple data flow graphs, the company writes. Azure Machine Learning also supports R, the open-source environment for data mining and statistics, the website reads.
These capabilities are in the Azure Marketplace to be tried out.