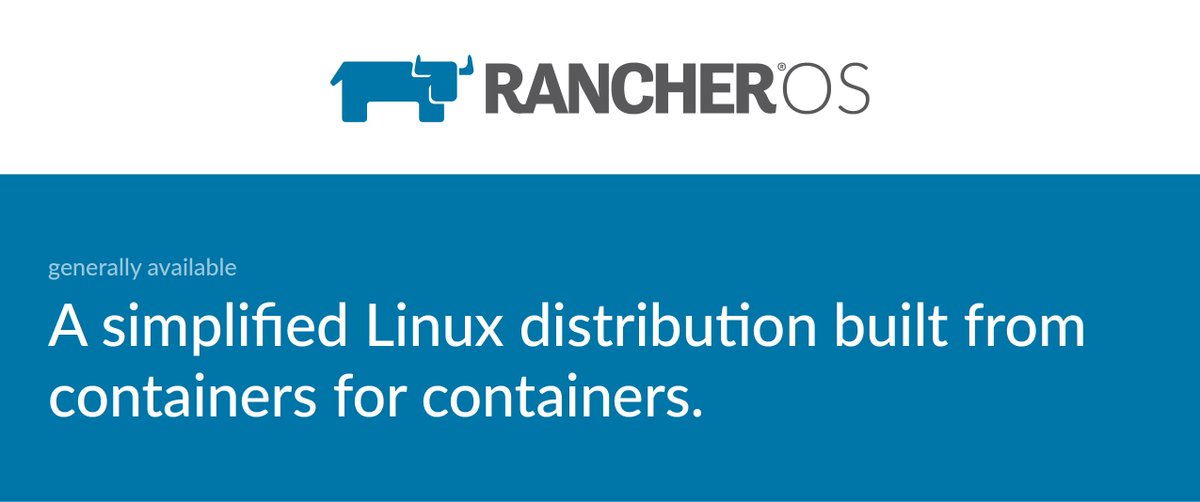 Rancher Labs has announced the general availability of RancherOS. RancherOS is the company's simplified Linux distribution for containers. It is designed to make it easier to run containers at scale in development, test, and production.
Key features include a minimalist OS, automatic configuration, simple setup, reduced footprint, and extensive platform support.
"RancherOS is a minimalist Linux distribution that is perfect for running Docker containers," said Sheng Liang, co-founder and CEO of Rancher Labs. "By running Docker directly on top of the kernel and delivering Linux services as containers, RancherOS delivers just what you need to build a containerized application environment."
VMware to acquire Wavefront
VMware is extending its monitoring analytics capabilities with the acquisition of Wavefront. Wavefront is a metrics monitoring service for cloud and modern app environments. VMware announced its attention to acquire Wavefront earlier today.
Wavefront allows users to get operational insights in real-time, discover new ways to address problems, identify bottlenecks, and test algorithms and hypotheses. The company's cloud-host service ingests, stores, visualizes and alerts on streaming metric data.
"I'm excited about Wavefront joining VMware upon the close of the deal," said Pete Cittadini, president and CEO of Wavefront. "Today, Wavefront delivers the ultimate streaming metrics monitoring to digital enterprises changing the way they deliver and instrument their clouds and modern applications. I look forward to delivering Wavefront's innovations to more customers, more extensively, as part of the vRealize portfolio of industry-leading multi-cloud management products."
OpenBSD 6.1 released
OpenBSD 6.1 is available with significant improvements and new features in nearly all areas of the system. This is the 42nd release of OpenBSD.
OpenBSD 6.1 comes with new and extended platforms, and retired the following platforms: armish, sparc, and zaurus. The release also includes improved hardware support, new support for Linux guest VMs, IEEE 802.11 wireless stack improvements, generic network stack improvements, and installer improvements.
A full list of improvements can be found here.
Sisense releases Sisense Pulse
Sisense, a data analytics company, is introducing Sisense Pulse. This platform uses machine learning technology to analyze and learn data patterns to detect and alert users to anomalies.
According to the company, business users are given the power to automate KPI tracking in a "systematic way." This lets users be more in tune with their key KPIs, and it gives them the insights they need to take action when an anomaly occurs.
"By continuing to tap into the power of machine learning with the introduction of Sisense Pulse, we are furthering our mission to lead the BI market by making insights easily accessible to everyone," said Amir Orad, CEO of Sisense. "Businesses today are faced with more pressure than ever to quickly analyze and interpret intensely complex data. There is no longer time to wait for manual reviews and static alerts. To stay competitive, companies need BI and analytics tools that are proactive, intuitive and that enable them to take action in real time. A system that makes its users smarter versus relying on the user's own guidance."
More information can be found here.
Kore.ai's chatbot builder
The conversational AI solution wants to simplify the development of chatbots. Kore.ai recently announced its Bots Platform 2.0, featuring greater intelligence, sentiment analysis, and the ability to perform simple tasks and complex workflows.
"Existing chatbots – and the platform solutions that they are built on – left a lot to be desired in the marketplace in 2016. From our inception we had a different perspective, based on deep enterprise expertise and experience building hundreds of chatbots, on what's truly needed to turn conversational chatbots into a reality for large companies," said Raj Koneru, CEO and founder of Kore. "The Kore Bots Platform 2.0, which introduces rich new capabilities, builds on that promise and empowers enterprises with a strong foundation for future innovation."