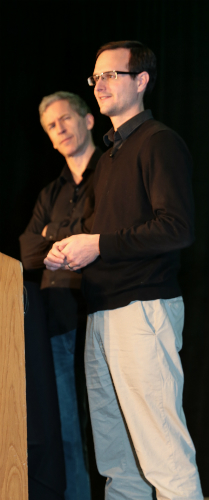 When Android was young in 2008, every developer working on an application for the platform was taking a huge risk. But for some early adopters, that risk yielded massive rewards. Today, there are more than 1 billion active Android users worldwide, and building applications for this blockbuster platform is no longer such a great risk.
Chet Haase, Android UI Toolkit team lead at Google, and Reto Meier, scalable developer advocacy group lead at Google, urged developers in their keynote talk at the Android Developer Conference in San Francisco today to find new ways to take risks in Android.
(Related: New features in the latest version of Android)
Said Meier, "Today, of course, the ecosystem is a lot more mature. Finding new ways to increase the risk is key if you want those big returns. You need to invest early in things not everyone has gotten on board with."
To that end, the pair detailed the new APIs and capabilities in Android 5.0 Lollipop, which was released earlier this month. Chief among those APIs is the new Android Materials API.
The Materials API is actually an umbrella for an entirely redesigned UI for Android. Using it, developers can add drop shadows to UI elements, use wipes to transition between screens, and add animations to objects on screen.
"For the most part," said Haase, "you do not have to do that much to create a basic Material Design application. If you opt into the theme, you get a lot of it for free. We've implemented it for the standard widget set. If you want to go beyond that, go for it, but don't be overwhelmed by the APIs: It's standard Android programming."
Haase said that opting into Materials means getting drop shadows, touch-reactive ripples on screen, and new animation capabilities ranging from curve-based movement of objects on screens to support of scalable vector graphics icons.