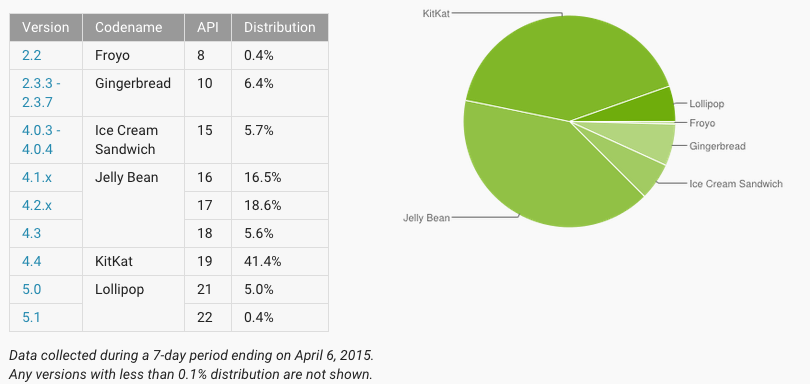 Android Lollipop is slowly making its way to more and more users. In February, it was reported that only 1.6% were using Lollipop. But the operating system made it to 3.3% in March, and now Google has revealed that 5.4% of users are using either Android 5.0 or 5.1. Lollipop's usage now surpasses Android Froyo, and is neck and neck with Android Ice Cream Sandwich.
KitKat remains as the most used version of Android, making its way to 41.4% this month, compared to 40.9% last month.
More information is available here.
Xamarin expands its free student edition
Xamarin has announced that it is expanding its student edition to provide Visual Studio support. Xamarin for Students is a free offering that provides students with tools and resources for mobile app development. With it, students can create native Android and iOS apps using Xamarin and Visual Studio.
"We are committed to developing the next generation of C# developers, giving more students the ability to publish amazing mobile experiences, and to bringing high-quality, high-performance consumer and enterprise apps to the masses," wrote Joseph Hill, director of developer relations and cofounder, on Xamarin's blog.
HP realizes it can't compete in the cloud
HP is coming to terms that when it comes to cloud computing, it can't complete with Amazon, Google and Microsoft, according to The New York Times.
"We thought people would rent or buy computing from us," Bill Hilf, head of cloud business at HP, told the Times. "It turns out that it makes no sense for us to go head to head."
The Times reported that HP is continuing to sell its servers, and is looking to build smaller cloud systems that would allow companies to use Amazon or Microsoft.