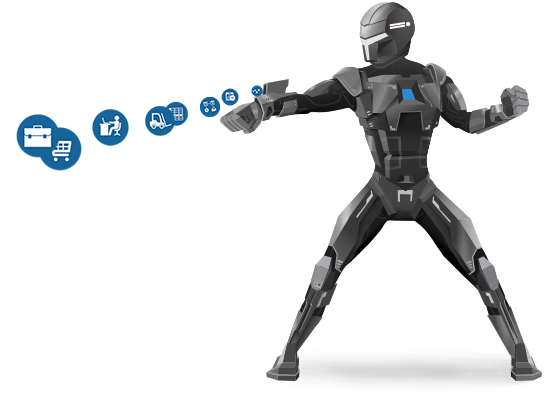 The mobile-driven, enterprise app development platform, appsFreedom, launched a new version of its Rapid Mobile App Development platform, which will enable offline mobile app development with all of the necessary features.
Moments of poor or dropped connectivity can lead to unsatisfied customers and data loss. In some industries, like oil and gas, employees are sent to locations where there might not be a connection available. The company's offline app development will aim to solve these problems by strengthening offline apps with no coding required. It also includes offline authentication, secure encryption, execution of business rules, and data conflict identification.
Mattel brings VR to kids
Kids can start exploring virtual reality with Mattel's new VR headset, View-Master. View-Master works with compatible Android or iOS smartphones to bring augmented reality and virtual reality experiences such as traveling through space, observing wildlife and exploring the world.
"Because of its text-based visuals, View-Master VR is designed for kids 7 and up," the company wrote on its website. "We have worked with an ophthalmologist to ensure that View-Master VR is optically safe for use by children. As with all screen time, we recommend parents follow pediatric guidelines to determine age appropriate viewing times."
In addition, the View-Master is powered by Vuforia, and works with Google Cardboard.
Windows 10 for mobile arriving in December
Microsoft announced two new Windows 10 phones yesterday at its Windows 10 device event. The phones will be available in November, and will be the only devices that have access to Windows 10 when it is released in December.
"Windows 10 is available on PCs and tablets now, and while Lumia 950 and Lumia 950 XL ship with Windows 10 for phones, broad availability of Windows 10 on other devices, including mobile phones, will begin rolling out in December," the company wrote on its Microsoft Lumia Facebook page.
YouTube's iOS update
YouTube has finally released the redesigned version of its iOS app. The updated app includes in-app video editing tools to make videos. Recommended videos, favorite channels, and subscriptions can be accessed by tapping an icon or swiping the screen. The new app includes three sections: home, subscriptions and account.
The update also introduces Google's Material design style, causing several iOS users take to leave negative reviews and one-star ratings. According to TechCrunch, iOS 9 upgraders said that YouTube missed the opportunity to add support for new iOS features like Picture-in-Picture, plus SlideOver and Split View (multi-tasking features for select devices). The functionality of the video editing features is helpful, but with all the negative reviews, the app might take a backseat to other top-tier media apps.
Google ranks top for cloud storage service
Among fee-based cloud storage service providers, Google now ranks the highest. According to the J.D. Power 2015 Cloud Storage Satisfaction Report released today, Google ranked the highest in customer satisfaction, and performed well in nine factors, including device syncing capabilities; price/value; compatibility across operating systems; ease of use; speed of downloads/uploads; storage capacity; variety of features; reliability; and security/privacy functions.
The report measures overall satisfaction with cloud storage service providers among customers who currently subscribe to a cloud storage service to store data files, provide back-up access and help with media downloads/storage. Amazon came in second, and Microsoft took third in the report.
Android Marshmallow provides in-app translation
Android Marshmallow has arrived, and with it comes a new feature for developers to include in their apps. Android Marshmallow provides the ability to include in-app translation from 90 different languages. The feature is already included in Android apps that use its text selection behavior feature. Developers who have custom text selection behaviors for their apps will have to update their app to include in-app translation.
More information is available here.