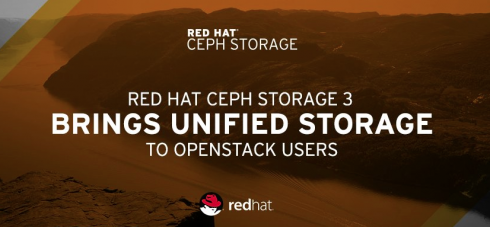 Red Hat Ceph Storage 3 was announced at the OpenStack Summit in Sydney yesterday. This new release is a major upgrade to the existing object storage platform, according to the company. It includes support for block storage via iSCSI and file storage via CephFS. Other highlights are that it will enable more of a variety of storage needs in OpenStack, make migration from legacy platforms easier, and deploy enterprise storage in Linux containers.
In addition, it features more than a dozen of new dashboards for viewing usage data, which will help administrators proactively monitor and troubleshoot distributed storage clusters.
"Red Hat Ceph Storage 3 represents a key milestone for OpenStack, VMware, and Windows communities in need of a unified storage solution," said Ranga Rangachari, vice president and general manager of Red Hat. "With this release, Red Hat lays the groundwork for all software-based storage services to be delivered as containers in the future while helping customers increase agility and shrink deployment costs."
Android announces Architecture Components is 1.0 stable
Android has announced that the Room and Lifecycle Architecture Components libraries have reached 1.0 stable, meaning that they are ready for production apps and libraries. The Android team launched this project as a way to make app development easier so that developers could focus more on creating great apps and less on the underlying Android OS.
The beta components of this library are already used in apps, such as Zappos, that have billions of combined installs. "Our hope with Architecture Components is to free developers to focus on providing unique new experiences for mobile devices," wrote Lukas Bergstrom, product manager for the Android Developer Frameworks team in a blog post. "We're glad we can finally announce them as stable for production use."
Google releases Resonance Audio SDK for developing spatial audio
Google has announced the release of a new spatial audio SDK based on technology from its VR Audio SDK. Resonance Audio works at scale across both mobile and desktop platforms. Google has added cross-platform support for the most popular game engine, audio engines, and digital audio workstations. The SDKs will work on Android, iOS, Windows, MacOS, and Linux, with integrations for Unity, Unreal Engine, FMOD, Wwise, and DAWs. It also has native APIs for C/C++, Java, Objective-C and the web.
Resonance Audio will also developers to control the direction that acoustic wave propagate from their sources, providing a more realistic sound experience and accurate perception of distance in VR.
Information Builders announces WebFOCUS 8.202
Information Builders announced the launch of WebFOCUS 8.202, which is the latest version of its BI and analytics platform. The new version includes an improved user interface, new designer tool, and a new visual discovery insight mode. It will allow even those in non-technical roles to create analytical content quickly.
"WebFOCUS has consistently been recognized for its accessibility and versatility, and with these latest enhancements, we're further equipping customers with even greater usability and flexibility," said Gerald Cohen, president and CEO of Information Builders. "Our reengineered user interface reduces the amount of time and skill needed to consume and create analytical content, and offers an intuitive launch point for users to explore and interact with data. We believe that empowering the business this way while simultaneously reducing the dependency on IT will lead to smarter, more agile data-driven business for our customers."