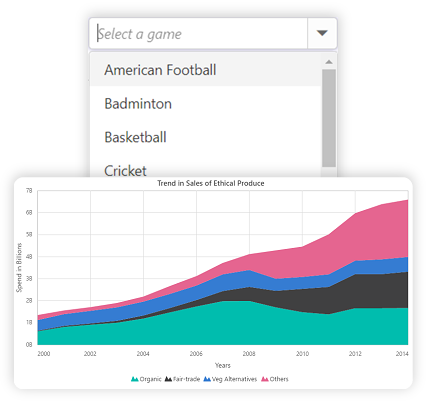 Syncfusion has announced the release of Essential Studio 2017 Volume 4, the final quarterly update to the Developer Platform for 2017. Included in the update is Essential JS 2, which is a collections of 25 Syncfusion JavaScript components.
"Tools for web development are a crucial part of cross-platform solutions, wherever your users may be. That's why we continue to improve our UI tools for technologies like Xamarin, and continue to build multi-framework compatibility into our JavaScript components," said Daniel Jebaraj, vice president of Syncfusion, Inc. "The updates in Volume 4, and especially the release of Essential JS 2, maintain the Syncfusion Developer Platform as the only web UI toolkit you'll ever need."
Micro Focus' latest acquisition
Micro Focus has announced it is acquiring the open source COBOL solution provider COBOL IT. According to the company, COBOL apps are still business-critical for enterprises and government entities. With COBOL IT, Micro Focus is adding an array of enterprise, license-based COBOL solutions.
"Joining Micro Focus gives COBOL-IT customers and partners a richer enterprise technology ecosystem context that can enable long-term success and support," said Stephane Croce, founder and CEO of COBOL-IT. "With significant intellectual property and deep domain expertise, Micro Focus has extensive experience supporting and extending business-critical COBOL applications, and we anticipate that this will present additional value to both our customers and partners going forward."
Microsoft releases Babylon.js v3.1
Microsoft has announced the release of Babylon.js v3.1, which is the first update to the third version of the 3D experience creation framework. The main goal for this release is to provide helpers, such as VRExperienceHelper and EnvironmentHelper, to achieve high end tasks. It also includes a new web viewer that will allow developers to create 3D experiences with only two lines of HTML, and uses the latest version of TypeScript to perform type checking.
Google releases Quick Boot for the Android Emulator
Google has announced Quick Boot for the Android Emulator, allowing developers to launch it in under six seconds. It takes snapshots of sessions so that it can be reloaded quickly. The company reworked the emulator about two years ago and have since been focusing on improving its speed, stability, and adding features to speed up app development and testing. In a blog post, Jason Eason, product manager of Android, highlighted the top features from recent releases, including Quick Boot, Android CTS compatibility, Google Play support, performance improvement.
Kaspersky Labs fights back again DHS's Binding Operational Directive 17-01
In September, the Department of Homeland Security issued the Binding Operational Directive 17-01, which ordered federal agencies and departments to remove the cybersecurity company Kaspersky Lab products from federal information systems. This week, Kaspersky Lab is filing an appeal in court challenging that issuance. It is claiming that DHS did not provide the company with sufficient due process and that it anonymously sourced media reports and rumors to create and release the Directive. Kaspersky believes that the DHS has wrongfully harmed its reputation without having any evidence of wrongdoing by the company.