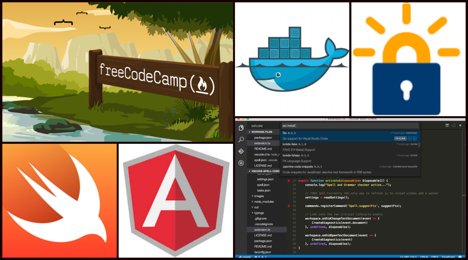 It's been a year of open-source projects. Both enterprises and startups have been releasing their code into the wild as a way to grow their capabilities. It's not just the code that's important; it's the programmers and contributors that can get their hands on it, alter it, fix it, and make it better.
For some companies, the goal of an open-source project is to create better technologies and a better community. Microsoft is one of these companies, and its developer experience is open by design to help developers build "great applications, more easily, in a mobile-first, cloud-first world," according to David Carmona, senior director of product marketing at Microsoft.
"We believe developers should be able to use the tools they need most, while also enabling the community to have an impact on how those tools evolve to meet their changing roles," he said. "New open-source technologies such as the Visual Studio Code and .NET Core are two examples of the work Microsoft is doing to provide a more open developer experience."
The head of open source at GitHub, Brandon Keepers, said that the repository viewed 2015 as the "tipping point" for open source. In 2016, it looks forward to "strong and diverse communities on GitHub helping make open source even more accessible.
"With important technologies from companies like Apple and Microsoft released on GitHub this year, it is clear that the future of modern software development is built on open source."
Since the new year is quickly approaching, SD Times looked back at some popular GitHub projects that made an impact on the open and free software world.
1. Swift: Apple announced earlier this month that its programming language would be open source. Open-sourcing Swift enables developers to include it on other platforms like Windows and Android. Apple is going to continue to lead Swift development, but it will work with the community to fix bugs and add enhancements. The company also announced a new port to allow the programming language to work with the Linux operating system. The Swift Linux Port features Swift without the Objective-C runtime, the core language and standard library, core libraries, and the Swift Package manager.