Digital disappointment has turned into digital desertion, according to findings from Apica, a performance monitoring and testing company. Today's online users expect a greater level of performance than they did three years ago, according to the research, and if they are disappointed with slow websites or crashing apps, they have no problem telling friends and family about their bad experiences.
The research was conducted by Apica and 3Gem, and it surveyed 2,250 online internet users in the UK, USA, and Sweden. The survey results were generally consistent across the geographies, but it found those in Sweden are slightly less forgiving when it comes to slow webpage or app loading times, and those in the United States are a little more patient. Nearly 40 percent of consumers won't wait more than 10 seconds for a website to respond before navigating away, and one in nine users won't even give a site five seconds before moving on to another.
Most agreed that slow loading times are a source of frustration for digital experiences. As many as one-third of respondents agreed that the impact is significant, and it leads them to quickly abandon a site or application. Three quarters of respondents have the expectation that webpages and apps should load faster now than they did three years ago, although users are still running into brands with poor performance on their websites or apps.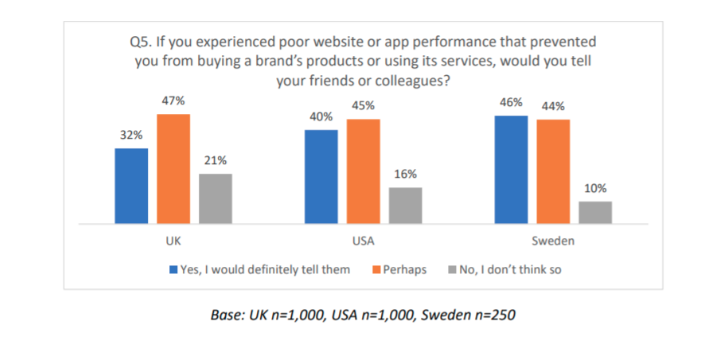 "These results demonstrate that digital consumers have limited patience for slow performance or delays," said CEO of Apica, Carmen Carey. "There is clearly a general expectation that sites and apps will perform faster and better, particularly with the advent of born digital organizations. The onus is now on businesses, whether they're a leading financial company or an online retailer, to ensure peak performance at all times."
Brands can be negatively impacted by poor web or app performance, according to Apica, and 83 percent of global respondents reported that they would consider telling colleagues about a poor website or app experience, and almost four out of 10 respondents said they would definitely share this.
"If companies wish to retain both customers and revenue, they must focus on proactive performance testing and monitoring of their digital services to ensure that, even at peak times, downtime does not occur," added Carey.