Businesses today depend on mobile apps so they can stay in touch with their customers and maintain a strong brand. However, maintaining a mobile app for a business is just one part of the process. After searching for insight that is available to businesses for its own use and not finding any, Apteligent has created its own framework that will help companies consider the app metrics and benchmarks that will best impact user experiences.
Gregory Toto, senior vice president of product and development at Apteligent, provided some insight for businesses on how they can best optimize mobile key performance indicators (KPIs) with user-centered app metrics.
(Related: Open-source blueprint Pepperoni released for mobile development)
For businesses to really measure their mobile progress, they need to consider the metrics that directly tie into a user's ability to satisfy a need or desire as they interact with the business by using its app, said Toto.
The app metrics Apteligent recommended will help businesses consider the mobile issues from the user's perspective. They included:
Failure, which is when the app crashes or freezes, or an error prevents completion of a user's flow in the app and there is no workaround.
Frustration, where the app is slow to start, operations are slower than expected, or a key operation fails and cannot be retried.
Annoyance, where the app drains battery faster than others, or an operation takes longer than expected.
Mobile users' attention span is short, and when using an app, they want it to work the way it is intended.
According to Apteligent, 65% of smartphone users will access online resources while in the car, 63% while shopping, and 42% while on public transportation. Almost 50% of users admitted to being online while in the bathroom, as well.
"You've got this interesting challenge," said Toto. "Because of the way people use mobility, [it makes them] hard to acquire and easy to lose them."
One of the easiest ways to lose a customer is when they experience a failure multiple times when using an app. According to the Apteligent paper, the best apps have crash rates of 0.25% or lower (measured as a percentage of app launches). Approximately 75% of all apps across Android and iOS do not meet this standard, according to the paper.
One of Apteligent's tips is that businesses need to focus on the crashes and other issues with mobile apps that are the most impactful to the user. Crashes when a user is trying to spend money or log in might be more impactful than a user trying to use the app in a different environment, said Toto.
How quickly an app starts is also an important target for businesses because it has a direct effect on a business result through an abandonment KPI, according to the paper. Other data suggested that half of consumers consider app load time a source of frustration, and almost 25% would leave a brand if they found the app load time unacceptable.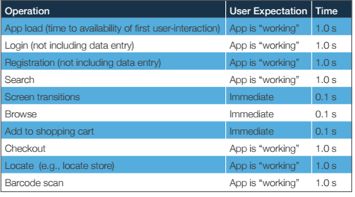 There are a few variables that are hard for businesses to control, like where a user is or what they are doing. But the things businesses can monitor are things like failures, crashes, hangs and exceptions.
Businesses can start by monitoring the time it takes to access the visible and important user flows, and then address major frustrations or annoying issues by "prioritizing those flows which align strongly with user intent," according to Apteligent.
After measuring key issues and figuring out the most important user flows in the app, businesses should take a new approach and benchmark their app against other apps, setting their standards higher than competitors.
Not all users will abandon an app if these metrics are not targeted, but some will seek another app to perform the task that they were trying to do in the first place (for instance, searching for a flight or shopping online). Apteligent suggested businesses start by monitoring and identifying issues in the flows of the app to understand where the app might be "falling short of user expectations."