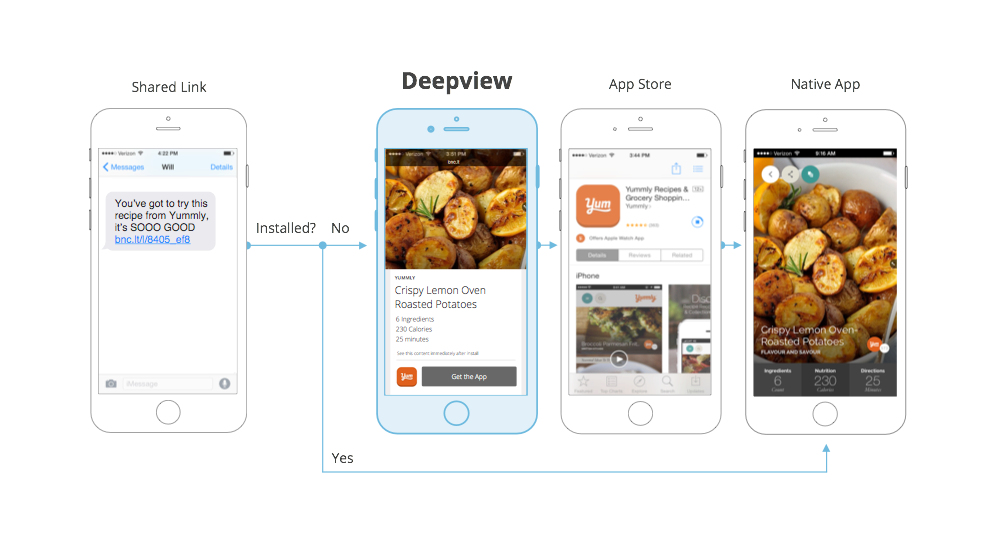 Branch, a mobile deep-linking company focused on contextual app discovery, has announced Deepviews: a new tool that changes how users interact with native mobile apps.
Deepviews automatically generates a mobile Web replica of a page within an app, and from a user's perspective this means they can preview native app content without downloading the app itself. For developers, Branch CEO Alex Austin said Deepviews enables mobile developers to engage and preview app content more easily.
"Many mobile app developers don't have the resources to build an optimized Web version of their app," he said. "Branch Deepviews provide this functionality by automatically generating Web pages from app content. This way, a user can see a preview of the content they will interact with in the app before having to download."
(Related: Branch partners with Referral SaaSquatch on deep linking)
Rather than manually coding an app preview, developers check a box in the Branch dashboard to create the preview containing deep links that send users to contextually relevant mobile Web pages for higher download conversion rates.
Deepviews was previously released in beta to partners like 9GAG, The Chive and iHeartRadio, and according to Austin, the use of Deepview has increased "direct-to-store" user flow from two to six times. The tool is now generally available for free as part of Branch's mobile deep-linking platform.
Austin said the release is "part of our larger mission to help app developers make their app content searchable and discoverable."