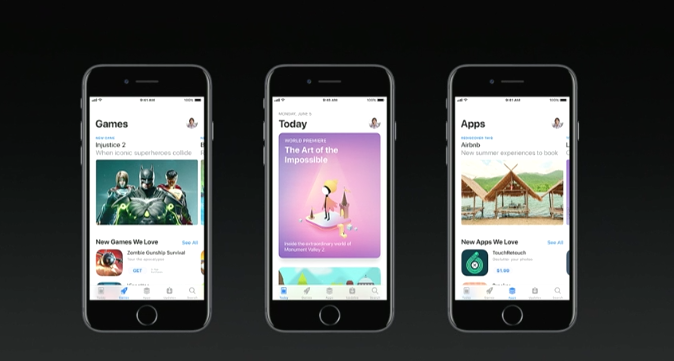 Apple's Worldwide Developer Conference (WWDC) kicked off today with new and improved features for developers. The conference opened up with a video of what would happen if suddenly all our applications disappeared and developers stopped developing them. The result lead to confusion, mayhem and disorder.
"Keep making apps," the video ended. "The world depends on you."
To help developers keep the app economy alive within Apple, the company announced new software updates, and a redesign of its App store.
The App Store turns nine years old this year, and for the first time ever, Apple is changing up the look and feel of the store. In the last nine years, the App Store has seen 500 million visitors weekly, has had more than 180 billion apps downloaded, and has paid out more than $70 billion to developers, with 30% being in the last year alone.
The new App Store will be designed to give users new ways to discover apps and learn about developers. The store will feature a new home tab called Today, and it will feature new dedicated spaces for games and apps. Other features coming soon include the ability to phase releases and showcase in-app store purchases within the app store.
This new redesign will be a part of iOS 11. "Today, we are going to take the world's best and most advanced mobile operating system and turn it up to 11," Tim Cook, CEO of Apple said.
iOS 11 will feature a redesigned app drawer that makes message apps and stickers more accessible, updates to Apple Pay, new Siri capabilities, camera and photo enhancements, and a new Do Not Disturb while Driving mode. Siri will feature new machine learning and artificial intelligence to better understand and help users.
Developers will soon be able to leverage a new set of machine learning APIs in their own solutions. The company plans to roll out a vision API and a natural language API. In addition, Apple announced a new augmented reality framework, ARKit, that developers can use to bring computer vision to their solutions and implement and interact with objects.
Developers can start accessing iOS 11 today, a public beta of iOS 11 will be available later this month, and the release is slated for the fall.
Also, macOS is getting a new updates with the macOS High Sierra. The new macOS will feature better performance, autoplay blocking, tracking prevention, fullscreen splitview in mail, the Apple File System, h.265, Metal 2, and Metal for VR.
Other announcements included a new iPad Pro, Apple Pencil updates, drag and drop capabilities with the iPad, and the HomePod speaker.